Are you longing for or already dating that dreamy-eyed Cancer guy? Are you unsure if he's starting to be in love with you or if he's just being a nice guy? Here are top 10 signs a Cancer man is falling in love with you. It may help you figure out where his head is at. Here are signs that Cancer man is falling in love with you:
Signs A Cancer Man Is Falling In Love With You
1. He becomes very attentive
The Cancer man is typically a very generous and friendly guy. However, when he takes a liking to someone, in particular, he'll begin to increase his ability to make himself shine.
What I mean by this is that he shows his potential partner lots of attention and affection. He isn't good at hiding his feelings and though he is a flirt by nature, he'll be more intensified toward a woman he wants to have a relationship with.
He will call more, text more, talk more, and want to be physically affectionate more. He's fairly obvious when he likes someone. In fact, he isn't above telling the girl he likes that he DOES like her. He's very nurturing by nature and for the woman he loves; he will treat her like gold. This is definitely one of the signs a Cancer man is falling in love with you.
2. He makes you feel special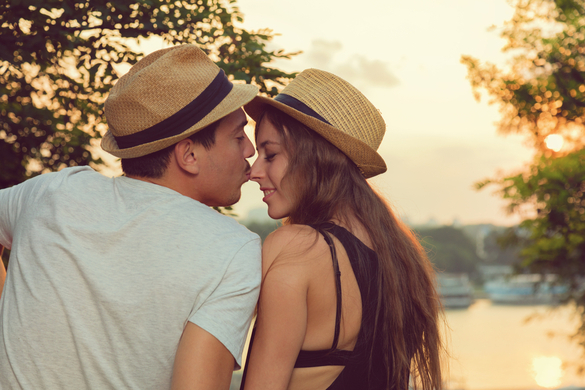 He will want to show you that you're the only one for him. He'll go out of his way to make you smile and ensure that you're happy with him. He will buy you lovely gifts and take you to amazing places.
The Cancer man may also want to spend more time with you than not. He'll be practically glued to your hip. Of course, if you're the independent type, he'll need to learn to adjust to not being with you 24/7.
He won't smother you as long as you make it clear that you do need a little personal space here and there. His desire to spend as much time with you as possible though indicates he's in love.
You may find your favorite flowers waiting for you on the table when you get up or better yet, you receive flowers where you work. He is very random and just wants to brighten your life as much as he can.
Truly this is a guy that if he could bring you the moon, he totally would! He's romantic also so don't be surprised when he wants to take you to the very best restaurants in town. This is one of the signs a Cancer man loves you.
3. This guy will start to open up
The Cancer man has no trouble opening up to a woman he is interested in forming a relationship with. He will reserve most of it for the woman he wants to commit to.
If you find that your Cancer guy is suddenly opening up about his innermost feelings or talking about personal information, he probably is into you and you should feel loved.
He will tell you what bothers him, what he loves, what he doesn't like, all about his past, and all about what he wants for his future. There isn't much he won't be able to come forward with to the lady he wants to be with.
If you find that your Cancer man starts to tell you his innermost feelings or secrets, he's likely falling for you. This man needs to feel secure with the person he's with so he will only open up if he trusts you.
When trust is built and he's able to let loose, this means he's falling in love with you and is happy to open up to you. He may talk to you about his past, his family, his feelings about life, and even what he wants for the future.
These types of conversations are always helpful at fortifying a strong bond for the future the relationship will take. Be sure that you're just as open with your Cancer man. He wants you to be just as comfortable with him as he is with you.
He will pull you closer and adore you in a way that no one ever has. He'll tell you his innermost fears and his innermost desires. When conversations such as these come up, you can bet your bottom dollar, this is another of the signs a Cancer man loves you.
4. He will do just about anything for you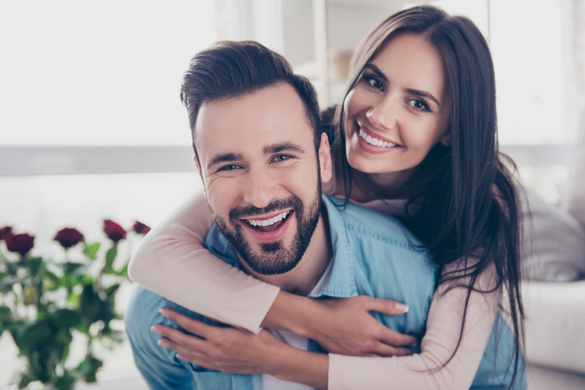 When the Cancer man learns what his lady likes, he'll do anything he can to make sure she is happy and fulfilled with him. He will go out of his way to make sure she's doing well and wants for nothing.
He wants to see his woman smile and laugh. That means he will make jokes and make a fool of himself if it means that his woman will enjoy herself in life with him at her side.
This is the man that wants to win his lady love over. He isn't one to be strong and silent. He's more open and cozy. Comfort is something that Cancer craves and wants a woman who will fit this order. This is one of the signs that the Cancer man has feelings for you.
5. He starts settling down
The Cancer is really great at being a social butterfly. When he's really into someone, he will start spending more time at home with her than going out for a night on the town.
He may suggest watching movies and eating pizza instead of going out to eat with friends. You'll notice that he's more into the "nesting" ritual than in going out on dates.
This also means that he's becoming more serious about the woman he adores. Going from friendship to love will make this man settle down. After all, that's what he really wants anyway for the long run.
6. He remembers important details
One of the signs a Cancer man in falling in love with you is that he remembers details. Want a man that will remember your birthday? He's the one! He'll remember the anniversary of your first kiss, first intimate time, first date, and first everything really.
He'll save movie theater stubs, save poems or letters you write him or save texts you sent him when you first got together. He's very sentimental. He may even save some sort of memento from your first date.
Memories are very important to him and don't be shocked that he has a ton of pictures of friends and family. He'll probably always want to carry around a camera or keep whipping his phone out to take photos with you.
He wants to keep building his memory bank with happy and loving times with the woman he loves. So if he keeps taking selfies with you everywhere you two go, he's in love.
A smitten Cancer man is really obvious. He rarely pulls back and rarely ignores the woman he adores. To him, that makes no sense. He will only retreat if he feels threatened or unsure.
Otherwise, he's all consumed by the love he feels for the lady he's with. He'll call, text, send love notes, etc. Valentines will be an AMAZING event for him to shower you with all the very best. This is another of the true signs that the Cancer man has feelings for you.
7. He wants you to meet his family
When he takes a woman to meet his family, she's in! Even if you're just dating and not all that serious, this is a sign he wants to BE more serious. It means he wants more than what it has been.
Cancer man wants to build a relationship that develops into marriage and eventually a family. That means that if he's really falling for you, he's going to want you to meet his family.
He wants them to meet you as well to see if you fit into their circle as he's likely very close to his family. Their opinions or feelings mean a whole lot to him. So if you've met any or all of his family, he's likely falling in love with you. This is one of the important signs a Cancer man loves you!
8. He wants you to meet his friends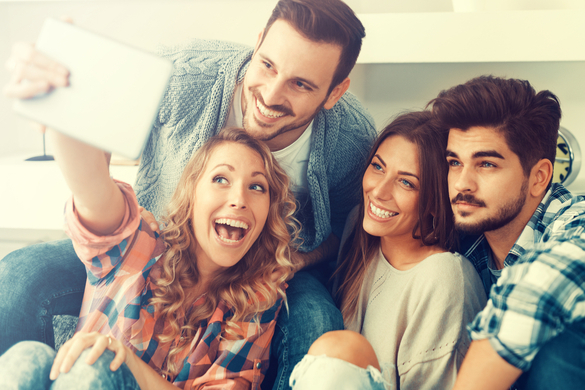 This holds true when it comes to his close friends as well. They are more or less like family to him and just as he values his family's opinion, he will value his friend's opinions of you as well.
He will also start introducing his lady love to his very close friends as they are often considered to be family as well. He forms friendships that are so close you wouldn't be able to tell they are not family.
Bringing you around any of the people who have his heart and soul is a sure fire sign he has more interest in you and may want to kick things up a notch. It means you are becoming more important to him.
He may still choose you even if others have expressed concerns but, he'd rather have their approval. It will make him more comfortable with becoming more serious with you.
9. He becomes jealous & protective
As with many other men, the Cancer man will become jealous and protective of the woman he's into. He feels that he has planted his flag and that no one else should be stepping in to sweep her off her feet.
He will also be more concerned about her safety than he was before. Perhaps he noticed that her car needs to be fixed so he insists on doing it or paying for it to be done. That way he knows she'll be safe on the road.
He may also at this point give her a key to his place because at least he'll know she is safe in his home. He'll call her often, text her often, or check on her to make sure she's happy, healthy, and safe.
Jealousy could emerge even on social media if he sees other men taking interest in the woman he wants to be with. This is yet another sure fire sign that the Cancer man is more serious than friendship.
Cancer men are HUGE flirts and will lay it on thick. However, when he starts to develop actual feelings for someone, he makes it very clear to her thus becoming her one and only.
Cancer man is more likely to be verbal about it than most other signs. He isn't one on waiting too entirely long to build a bond either. He goes with the intuitive feelings he has when it comes to relationships and love.
If he feels it strongly with someone, he will go after it and not let anyone or anything stop him. If he's only flirting and not making an effort, then he's not really into someone.
However, if he's trying to spend time in adoration then he is definitely on and ready to build something special with the right woman. Of course, it's a really good idea to get to know the Cancer man so that you can make the most of a relationship with him.
10. He considers you his best friend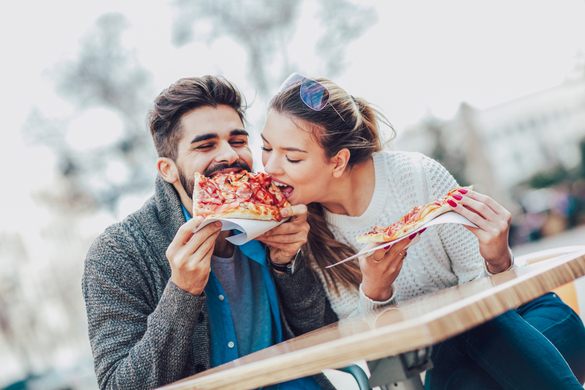 Cancer man not only wants you to be his one and only. Eventually, he wants you to be his wife and most importantly his best friend. This is one of the guys in the zodiac that believes that his partner should be his confidant.
That said, he will talk to you about anything and everything if he's in love with you. There is no topic that is taboo. You're his best friend and why hold back on anything?
Hopefully this gives you a good idea of all the signs a Cancer man is falling in love with you. There is nothing better than being with your best friend in love and in life. It's a true treasure and a wonderful sign the Cancer man loves you.
Being best friends is a very important step to draw up and maintain in your relationship with a Cancer man. Always be there for him and be the one he turns to when he needs to vent or talk.
Conclusion
So as you can see, there are plenty of ways that a Cancer man will prove he's in love with someone. If he's doing any of these things or more than one, then he's in love with you.
Of course, there are some needs that a Cancer man has. Can you fulfill them? If you need other signs a Cancer man is falling in love with you, then you have to read Cancer Man Secrets. There you'll find everything about your special Cancer guy.
Did you win a Cancer man's heart? What did you do? Tell me all about it!
Share your story (or situation) with our community in the comment section below (don't worry, it's anonymous).
Wishing you all the luck of the universe
Your friend and Relationship Astrologer,
Anna Kovach
---
---
Similar reads