Is a Cancer man being rather flirty with you but you aren't sure if he's actually interested in more? Maybe you've started dating a Cancer guy but not really sure if he really likes you or if he's just playing along. Here's how to know if a Cancer man likes you.
Signs a Cancer Man Likes You
1. His Actions Show You
Cancer man is one that you should always pay attention to his actions because he only does things he means. If he really likes you, he'll go out of his way to make you smile or laugh.
He may randomly walk up to you and grab your hand while he's talking. He'll look you into the eye and perhaps tell you a very witty joke in order to make you crack up.
He'll find any excuse that he can to spend time with you or around you. He may also ask you lots of questions to get to know you. It lets him figure out what you like and can then use it to gift you later.
If he's already been trying to flirt, he may bring you a single flower, dessert to snack on, or offer to buy you lunch. This will especially be true if you work in the same place as the Cancer guy. This is one of the signs Cancer man likes you.
2. He Opens Up To You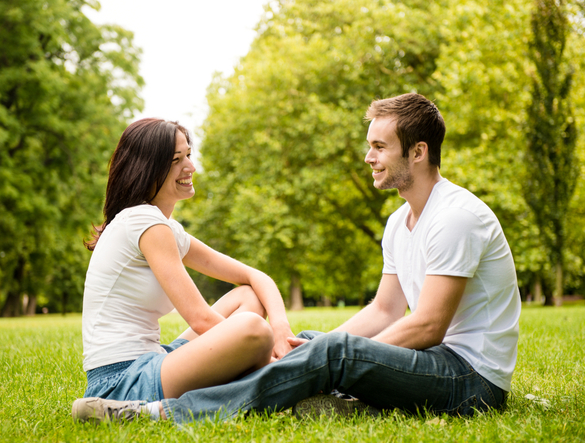 A Cancer man that really likes someone will start to open up to that person. So if there is a Cancer man around you that has suddenly started to come to you with his problems or asking for your advice, he may have an ulterior motive.
He may very well have a thing for you and this is yet another way he can be near your and spend time with you. He's very shy so don't be surprised that he's trying to spend time with you in this type of way.
It helps him get to know you and get closer to you without having to come right out and tell you he has a thing for you. If you like him, you may want to actually let him know though.
The sooner he realizes that you DO like him, the more he'll start focusing on actually having a relationship with him instead of trying to appear as a friend or co-worker that likes to talk.
3. Protective Gestures
When the Cancer man hasn't come out and professed his feelings yet, he will show you in other ways how he feels. I've mentioned him touching you while talking.
He may also do things that show he's becoming protective over you. Being protective is a feeling he has with someone he's really into. This can include things like asking you to text him when you arrive home or at your destination.
If you're on a texting basis that will work in showing you he cares. If you aren't even texting each other yet, he may offer to walk to you to your car wherever you are at.
Perhaps he may offer to pick you up or drive you home depending on whatever is going on. He cares for your safety and he'll do things that will ensure him you will be safe no matter what you're doing.
It's also his way of showing you care. So if you've noticed that a Cancer man around you is becoming slightly protective, you know he probably actually likes you thus his care.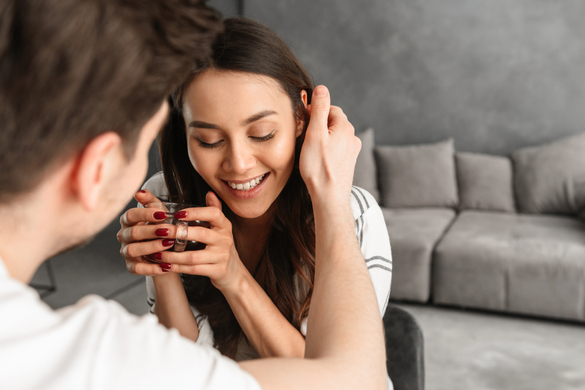 4. Follow Through
Cancer men can sometimes be overzealous or they can make promises that they don't really intend to keep to some. However, when he's really into someone, he will do what he says he will.
If he tells you he will call you, he will. If he says he'll meet you at a certain place at a certain time, you can expect him to be there. Any promises or plans he makes with a woman he really likes, he'll keep them.
He will make his life about the woman he covets. Everything he does becomes about how she feels, what she likes, and what he can do to please her or make her feel loved.
Even such gestures at helping you carry in your groceries, move furniture or lift some heavy file boxes around the office. No matter what it is, he wants to make your life easier.
5. Body Language
Clearly, if he tries to touch you as much as possible, he's showing you his desire for you. This can include touching your hand, your shoulders, your arms, or giving you a "look".
He may also show his body language when another man approaches you to talk to you. Even if it's only about work, he's going to have a look on his face like he's not pleased about it.
This shows his jealousy and once you see that, you are certain that this Cancer guy likes you. Cancer men are jealous and possessive. Seeing any man approach you even if it's harmless is going to set him off enough for you to see it visibly.
It's not likely he'll comment on it. Then again, if he's secretly in love with you, he may ask you "what was his deal?" or something like that. It lets you know his deep care for you and how much he didn't like that guy talking to you.
If you catch a Cancer man staring at you from across the room, he likes you. That's a given! He is a very shy man and so sometimes all he can do is stare in awe of your beauty.
He'll stand away afraid to approach you but cannot seem to keep his eyes off of you. Why don't you offer to buy him a drink or have one sent to him? He'll be floored and it will let him know you're interested in him too.
6. If a Cancer Man Stares at You
I mentioned body language but another one of the physical signs a Cancer man likes you is when he stares at you. He may watch you from across the room, he may stare when you're not looking, or he may look longingly into your eyes.
This is how to tell that a Cancer man really likes you. He's already feeling things that are making him react in such a way that requires looking at you to determine if what he feels is real.
Locking eyes with his luscious look will help him to feel what you're feeling and that's really intimate. He sees this as almost having sex without actually physically doing it.
It's not that he's undressing you with his eyes (ok maybe he is) but it's more that he really likes you and is realizing that he wants a future with you. He also thinks you're rather fetching or sexy.
7. Will Open Up About What He Feels
One of the signs a Cancer man really cares about you is when he actually discusses it. He will want to sit down in close quarters in an intimate setting to talk to you.
He'll be very gentle, will want to take your hand, look deep into your eyes, and tell you exactly how he feels. This is in the stage of him really knowing and taking the risk of allowing himself to fall for you.
When you find yourself in this position there is no second guessing what he's thinking or feeling. You'll know and you'll embrace him with such love and tenderness that it will bring you two closer.
The Cancer man is normally very in touch with his own feelings. Even when he's confused, he still has a general idea of what is going on with himself. When he's certain of his care for you, he will open up the floodgate of conversation.
8. Culinary Love
Cancer man can sometimes express his feelings through cooking. I can't claim all Cancer guys love to cook but a huge portion of them do. If they don't know how, they can still follow a recipe book.
When he wants to impress a lady he's feeling for, he will invite her over to his place to cook dinner for her. If not his place the he will ask if he can come over to her place to do it there.
He will go out of his way to make a masterpiece that she'll love and will know how much he cares for going above and beyond in the kitchen. It's not far from the truth though. Am I right ladies?
You should also know that cooking for a Cancer man is definitely a turn on and a quick way to his heart. Just keep that in mind if you also love to cook. If you don't, taking a class together might be a good way to connect.
9. Asks a Lot of Questions About Your Love Life
How to tell if a Cancer man is interested in you, pay attention to all the questions he asks you. If he 's not asking much then he may not be all that into you or at least not yet.
If he IS, he will ask you a ton of questions in effort to really get to know who you are as a person, what you want in life, what your passions are, and what your plans are for your own future.
Him taking the time to really get to know is one of the signs a Cancer man likes you. So open up and divulge what you want him to know about you so that he can feel closer to your heart.
Remember to always be truthful in what you answer because he will feel if you aren't. He's quite able to sense your feelings. It's a better bet to be honest and hold nothing back.
What to do next?
I've prepared FREE copy for you: grab your Free Copy of 30 Dirty Little Secrets About Your Cancer Man here >>
Second…If you'd like to REALLY get to know ALL about him, you'd want to learn more about my special series Cancer Man Secrets here. It's the most detailed "manifesto" about the Cancer man ever created, and it has helped thousands of women like you catch and keep that special Cancer man in their life. Don't wonder, know, exactly what your next move should be.
Share your story (or situation) with our community in the comment section below (don't worry, it's anonymous).
Wishing you all the luck of the universe
Your friend and Relationship Astrologer,
Anna Kovach
---
---