Are you a brainy and optimistic Libra woman who thinks maybe the Cancer man is just too moody for you? Perhaps he's too flirty and you take it personally. Is he the one planning to break it off? You may want to keep reading to learn more about Cancer woman and Libra woman break up to understand your situation better.
Difficult Match between Cancer Man and Libra Woman
These two aren't known for being a match in heaven. Both like to take a relationship nice and easy and so that part they have in common. Cancer is more family oriented while Libra woman is possibly more into her career or hobbies.
Libra woman is independent and Cancer man needs a woman who is more attentive to him. He won't like the competition he feels when she wants to focus on her lucrative career, work, or other projects. He'll feel like a second seat participant.
The Cancer man wants to build a family unit more than anything else in the world. While Libra woman may want to have kids, she's going to be more careful and want to plan it out whereas Cancer man wants to just go for it.
The two have very little in common which makes it very hard for them to relate to each other on any level. Intellectually you two may get along very well and have topics of conversation that are inviting or stimulating.
That's mostly all the two of you have going on and so it's no surprise that if things aren't working, one or both of you are planning to put an end to it. You're not the most compatible with the Cancer man. In fact, he's on the lower end of the spectrum for you.
That's not to say that you cannot work it out with him but the score you two have as a couple is basically a 3 on a scale of 1 to 10. There are other signs that are far more fitting for you.
However, if you're angling to try to work things out with your Cancer guy, you'll have to both really want it and really want to work on it. Otherwise you two are likely going to end up running for the hills in opposite directions.
Is a Break Warranted?
If you really love your Cancer guy then you may be asking if there is a way to save the relationship. The answer is, you both have to find common ground in just about every area of your life in order to make it peaceful.
As a Libra woman, you really don't understand Cancer man's crazy mood swings. You won't understand his clingy behavior, and you won't feel comfortable with the fact that he's not able to connect to you easily.
The sex probably isn't all that fulfilling because you're on two different levels. You really enjoy the physical enjoyment of giving to each other and he's looking for a deeper emotional tie or spiritual connect.
You may still be able to find some great enjoyment with the intimacy between you but It may mean very different things to you both. If you two are alright with that fact then perhaps you can still work this through.
Your values probably aren't even remotely close. You have to work hard at finding a middle ground that you two can agree on. It's not an easy thing to do but it's not impossible either.
If you two really do love each other then you can absolutely fight for your love. If you're the one considering the break up then perhaps you can try to see through your Cancer man's eyes.
Perhaps by looking at the other side of the situation, you'll gain insight that is important for you to decide what may be best. As a Libra, you should be able to see both sides of the coin.
Once you do, you'll "get" his side better. However, if he's the one that is planning to end it, you may want to approach him and tell him you understand what he's feeling but you'd like to work on it.
Perhaps he'll be willing to sit down and see if there isn't something you two can try to get on track and find a way.
Read next: 5 Pros and Cons to Dating a Cancer Man: Get to Know Him
When the Breakup Occurs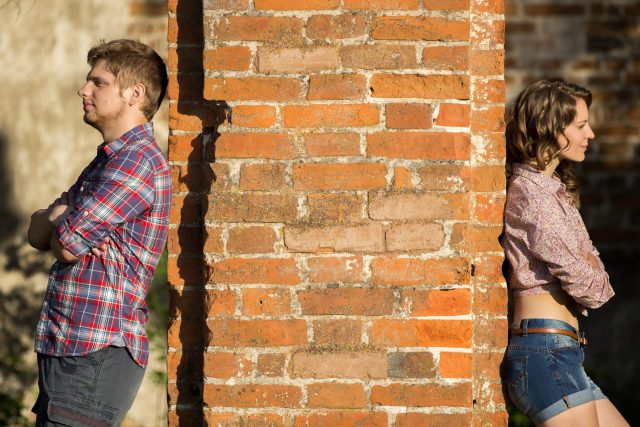 If or when you finally do get to the stage where it's time to end it, neither of you are going to have an easy time with it. One thing you two do have in common is worrying about coming off as the "bad guy".
You tend to think things through for awhile before you actually work yourself up enough to call it quits. Cancer man will make himself sick thinking about it and sometimes he may actually try to move on without saying anything.
Either way, this is going to be emotional for you both. You may be able to look at the logical side of why you want to end it but Cancer man will take this as a failure and will be disappointed.
Even if he agrees is the best thing, he's going to grieve the process in his own way. When you two end it, you are not likely to remain friends or get back together later. Both of you will move on and probably find someone else who is better suited.
Neither of you will want to turn back and explore another possibility because it was likely hard enough the first time around. You can be amicable but you won't want to do much more than that.
You'll get back on the horse and find someone else who matches your needs or desires in life and he'll move on rather quickly as well. Not too much time will be spent on dwelling.
This fit isn't the best and probably best left alone. However, if there is love there, it might be worth a second look. That's up for you two to decide.
Share your story (or situation) with our community in the comment section below (don't worry, it's anonymous).
Wishing you all the luck of the universe
If you're ready to understand more about how compatible are Cancer man and Libra woman, check out my brand new Cancer Man and Libra Woman Love Compatibility Guide, and if you want to catch him and keep him click here to learn more about Cancer Man Secrets.
Your friend and Relationship Astrologer,
Anna Kovach