There are things you can say to your Cancer guy to make him fall head over heels for you, but did you know there are also questions that make him go nuts for you? Yep, there sure are!
Now you probably want to know what those questions are. I will share with you what I know. Keep reading to learn the burning questions you can ask to make a Cancer man fall in love with you. 
7 Questions That Make a Cancer Man Fall in Love
1. Can I Get Your Advice on This?
No matter what the subject is, ask for his advice. This makes him feel that you value his opinion and what he can offer to your situation. 
Believe it or not, he's the "go-to" guy typically anyway. What I mean by that is he is someone who draws in people who need his assistance. Everyone knows he's a fantastic listener and tends to offer up some really helpful information.
Asking for his help will make him feel special and important to you. This is a fantastic move to make! 
If you don't have any problems, you can always think of something anyway. Watch how he lights up in response to you asking for his advice. He'll love it, and it's definitely one way to the Cancer man's heart. 
2. How Do I Look?
I know how odd this sounds, but it does work. Cancer men are typically fashionable and on point with style. When you ask him how you look, he feels, again, that he's important enough to you to give an opinion.
He also sees that you care about how you look, which is a turn-on for him. Cancer men love to look at beautiful and sexy women. You should wear something very sexy and ask him how you look.
His opinion will come after he picks his jaw up off the floor. A short black skirt with thigh-high stockings and a sexy blouse will blow his mind. "How do I look, honey?" 
3. What Are Your Dreams and Desires?
Believe it or not, when you ask this question, he will feel incredibly cared about. The fact that you would want to know this information shows how much you really do feel for him.
He will be more than happy to answer this question for you and probably rather honestly. This can actually help the two of you get closer because you will be able to share what yours are at the same time.
Perhaps you both have similar dreams or goals in mind. Even if you don't, it makes him feel really good to know that you find it important to know more about him.
This is just one way to really get to know him. It flatters him, and it helps you to perhaps mingle your souls together. To be a Cancer man's soulmate, you've got to be on the same page. This is a great way to do exactly that.
4. Can I Make You Dinner?
This should be pretty obvious, right?! Cancer men love food, and they certainly fall in love faster with a woman who can cook. Offer to whip him up a sensational dish.
Even you asking if you can do this for him will put him on cloud 9. Thinking about going to spend an evening with you at your place or you cooking at his will get him going! 
Find out what he likes and try to cater to his desires in that way. A Cancer man is very impressed with a woman who can make wonderful home-cooked meals. This is his ideal lady.
If you aren't sure what he prefers, then ask him what his favorite dish or style of cuisine is. He will give you some ideas. Of course, if you go all out by setting up candles, you'll get extra points.
You asking this will make his knees weak for sure. Cancer men appreciate food very much. In fact, some of them overindulge and can become overweight if they aren't careful, so make sure to work healthy dishes into your menu!
5. Can We Split the Bill?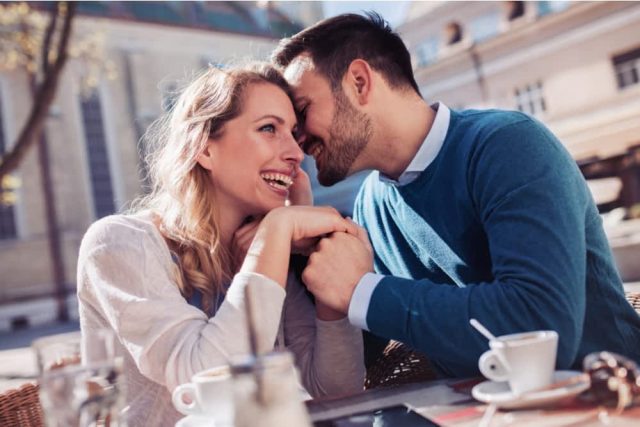 Cancer men are good caretakers but not particularly that great with finances. They will give you all they can physically and take care of your needs, but they can be rather frivolous with their cash.
He wants a woman that does not depend on him. She's independent and takes care of her own bills. Now that I've explained that a little bit, if you ask him this question, he'll be really impressed.
He may not let you pay the bill wherever it is you are, but with the fact that you asked to pay or split it, he will know that you don't expect him to pay, which will make him feel amazing.
In fact, if you take care of the bill without him knowing then he finds out, he will be completely dazzled. That's really thoughtful and considerate. This will turn him on and help him in the process of falling in love.
This lets him see that you are on top of your game and that you're able to take care of things without his money. Don't do it too much, though, because then he'll think you're his sugar mama!
Just try to keep it fair, and he'll really appreciate you—and maybe fall deeply in love with you. 
6. Are You All Right?
When you notice he's not acting normal, is sad, is mad, is tense… ask him if he's okay. Even though he may not want to talk about it, the fact that you asked will make him feel really good about you.
If he knows that you're there for him and that you care when he's not acting normal, he will feel more secure in his trust for you. It's a necessity in the Cancer man's world.
He cannot be with someone who doesn't check in with him or tiptoes around him when he's upset. Communication is very important, and he may not always want to discuss his feelings, but he will at least take comfort in knowing he can.
If you don't ask, he'll think you don't care and will start feeling resentful. 
Sometimes he may snap at you in response. He doesn't mean to, though. He needs you to ask, so be sure when you can tell his mood is off that you are checking in with him. He will appreciate it in the long run. 
Read next: 7 Things to Talk to a Cancer Man About When You're on a Date
7. Can I Tell You A Secret?
Every Cancer man loves a juicy tale. When it comes to getting to know you, of course he's going to want to know something that you don't share with everyone. It makes him feel special!
The Cancer guy will absolutely be watering at the mouth for you to tell him this tidbit about yourself. It's something that helps him open up and tell you things about himself as well.
He will feel comfortable enough to tell you something as equally interesting. When you're on the same level, communication flows much better. You can tell him anything without asking this question, of course, but it's more fun when he feels like he's being let in on a secret!
It makes more of an impact because it means you care whether or not he wants to know. Trust me, it makes his ego soar.
When you win him over like that, it's so much easier for him to fall in love with you. Give it a shot and watch how he responds. He will definitely lean in and listen intently. 
You are now loaded with some questions that will get your Cancer guy's attention and should help him to fall for you. They are questions that approach his heart with an offer of devotion.
If you are brave enough to start taking these steps and asking questions like this, then you will win your Cancer man forever!
Did you know that handsome actor Harrison Ford is a Cancer man? His looks just never seem to fade! 
Do you have a Cancer man because you asked the right questions? What did you ask that worked? Tell me what you can! Your stories are important to me—and they're completely anonymous! Feel free to share in the comments below!
Your friend and relationship astrologer,
Anna Kovach