What do Cancer men really want in the bedroom? What makes them hot and heavy? I've got just the delicious Cancer man sex tips that you're looking for! You will leave him wanting more!
If you want this information, you're going to have to keep reading! Learn the six things that drive Cancer man crazy in bed! 
6 Things That Drive A Cancer Man Crazy In Bed
1. Can't Go Wrong With Flirting
Before you are actually getting down and dirty with your Cancer man, flirt with him a bit. Lead him to the bedroom with a sexy innuendo that turns him on. 
Whisper sweet nothings in his ear and make him excited to see what's coming next. You might even try reading some sexy poetry to him. That will surprise him and make him feel special.
Anytime you make a Cancer man feel special, it can lead to very passionate sex. Try reading a passage or two from a sexy romance novel or magazine. 
Getting into his mind first is a good way to lay out the plan for a delicious night of play. The Cancer man is open to experimentation so reading him some erotica will intrigue him. 
Play with him. Kiss him – a lot. In fact, make out with him for quite a while. He is up for it and will build the tension between you two. 
It's sometimes more fun to play with each other than the actual ending. It's fun, it's hot, and it's for lovers. Give it a try and you'll see exactly what I mean.
The Cancer man is all about physical contact. The more you touch him and caress him, the more he'll feel confident in his feelings for you. Getting your Cancer man in bed is well worth the effort! 
2. Initiating Intimacy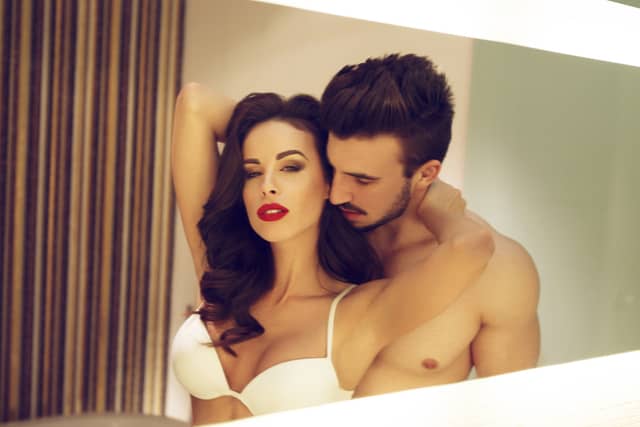 Sometimes Cancer men are rather shy and unsure about whether or not you want what they do. If the chemistry is reading right for you, then go for it. Don't be afraid to get him going!
Start with caressing, kissing, and feeling him up in the chest area. Tell him your fantasy of what it would be like with the two of you. Tell him how sexy he is.
I only recommend this if he's responsive. If he seems awkward then you may want to ask him if it's alright. If he says yes then proceed. 
Wear a sexy outfit or sexy lingerie. Open your blouse a little to reveal your lacy bra underneath while making out with him. Once you give him a green light, he will have no trouble taking it from there.
It's a matter of knowing that he's respectful of you and letting him know it's alright to ravage you. The signals are there but take another step to ensure he knows.
I mean, there is always the really effective route in telling him in his ear: "I want you." That's pretty much all you may need. If he's into it, it's game on! 
3. Ask Him About His Desires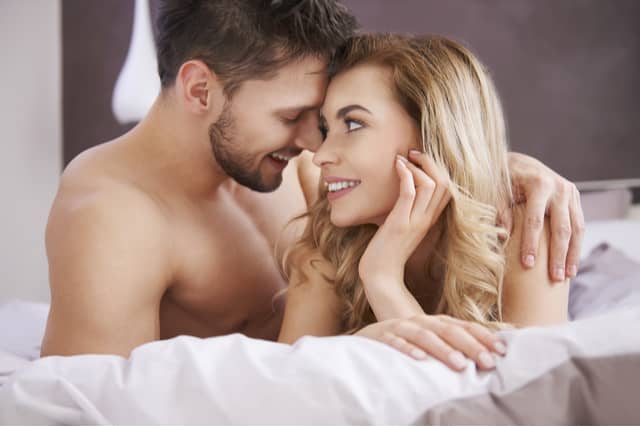 Whether you've had sex with him or are waiting to, ask him what he really likes in bed. Ask Cancer man in bed what his fantasies are. 
In this way you get an idea of what he'd like to do with you and how. It's the easiest guidebook to follow because it's his. 
While you're cuddled up on the sofa or in bed just ask him out of the blue… 
"What turns you on? What do you like the most in bed?"
He may be a little shocked that you asked, but if he really wants to be intimate with you, he will give you an honest answer.
Be open to try what he says, unless it's unreasonable, of course. The spontaneity or willingness will turn him on. 
In return, tell him what you like and what you fantasize about. He's all too happy to help you out. 
When you are communicating about what you want in bed, the Cancer man will feel fulfilled and excited with you. This leads to even more intimate times.
4. Be Girly & Romance Him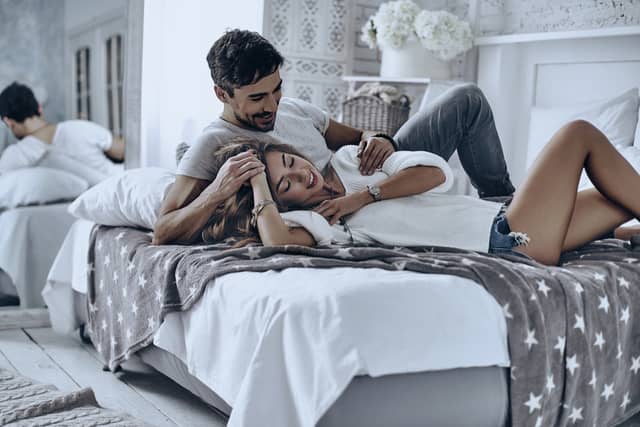 I mentioned before that wearing something sexy under your clothes will turn him on when you're laying next to him kissing and caressing one another.
The other thing is, he really loves women who are feminine. He loves dresses and skirts. Even if you aren't typically someone who wears these things often, doing it for him from time to time will bring you great benefits.
You can have outfits you specifically wear just when you're going to spend time with him. Try wearing thigh-high stockings under your skirt or dress. He'll go wild!
Floral prints are wonderful for a Cancer man. He just loves the female form and the femininity with flowing dresses or skirts makes him feel romantic. 
Wear something very feminine with some soft scents such as vanilla, jasmine, or some other floral type of scent via perfume or oils. 
The combination will make him feel like he's home and he's in love. Truly you cannot go wrong being a woman. 
Again, if you're more of a tomboy type, that's alright as long as you let your feminine side come out, he'll be happy. 
In the bedroom, you definitely have to dress the part. Yes, he will love you naked but if you wear frilly lacy things, he'll be in heaven and will reward you very well if you catch my drift!
5. Be Gentle With Him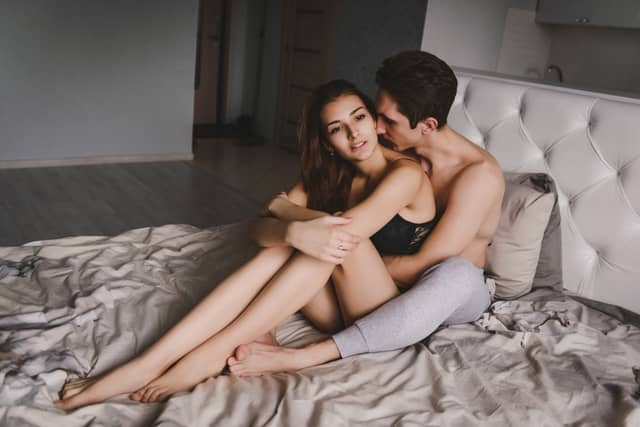 The Cancer man is very sensual. He isn't the type that's into rough sex. That being said, when you initiate, be gentle. Be tactile because that's how he is and wants the same.
Lots of cuddles, hugging, and kissing is necessary in and out of bed. He is the type that wants to cuddle after sex. He may even want to talk before catching some z's. 
He's interested in how you feel and if it was good for you. It's a good time to give him positive feedback. 
Can you imagine a man that wants to cuddle and talk afterward? That's a Cancer man! 
Hold hands with him and always make a physical connection. He longs for it. To be fire in the bedroom, you must be sensual and loving at all times with him. 
The Cancer man in bed is the best experience you could ever have if you do it right. He wants to please you and he also wants to take the lead in most scenarios. 
Even if you initiate, he wants to take it from there. He wants you to be the feminine and him the masculine. He wants a Yang to his Yin. Be that woman for him. 
6. His Most Sensitive Spots
What I mean by this are Cancer man's erogenous zones. He has certain areas of his body that are very sensitive and appreciate attention from you as his lover.
Think of Cancer being the family man. That means he has a huge heart. It isn't surprising then that his most sensitive area is his chest! It's a spot where you can show him love and turn him on at the same time!
He's one that will love it when you put your hand on his chest while talking to him closely or while making out. 
Caress his pectorals and even pay attention to his nipples when you really want to turn him on. This is particularly true if you kiss, lick, or suck on the nipples.
You can try giving him a massage of his back and chest. He'll relax but turned on. Skin on skin contact is something that Cancer men relate to sensual love. Even if all you do is caress his hand.
Truthfully anytime you touch him, he will feel your soul's energy and be drawn into you. The chest is the spot where you're going for the goal. 
Now you are fully loaded with the best things you can do that drive a Cancer man crazy in bed. He is truly a different breed and one of the most loving men in the Zodiac.
Read next: 7 Ways To Dress For The Cancer Man In Your Life
Hot Things You Can Say To Cancer Man
Do you know the right words that make a Cancer man envelop you in bed? 
Can you tell him what you want from him without getting choked up? 
He says, "tell me what you want," and you just sort of freeze or shrug.
It's time to really open up and be vocal with Cancer man if you want a hot sex life with him.
All is not lost; I can help you achieve the very best results with him now!
No more making him guess what you want.
It's time to be straight forward so that he knows what it is you are after.
Get what you desire most with the Cancer man in bed!
Click here right now to learn the right words to turn your Cancer man on! <<
Reach for the best orgasm you've ever had simply by uttering the right things to your Cancer guy. 
I wish you all the luck of the Universe! 
Your friend and Relationship Astrologer,
Anna Kovach 
---
---
Similar reads