Are you trying to finally get that Cancer guy into bed with you? Perhaps you're dating a Cancer man and wondering how best you can please him sexually. Whatever the case may be; here are some helpful hints that can help you rock his world in between the sheets.
The Basics
The first thing to remember is that the Cancer man is a very sensitive guy emotionally. This means you need to appeal to his inner self and show him how you feel about him. Really caring for him is what he's looking for.
Cancer men are drawn to women that appeal to his desire to be adored and appreciated. He responds to flirts and compliments more than anything else. This will be an instant turn on for him.
Turn him on with telling him how incredibly sexy he looks, how much you love his new hairstyle/cut, how beautiful his eyes are, or how his smile entrances you. Truly you can speak poetically to this guy and he'll eat it up like candy.
Telling him how amazing he is, how much you love it when he does things for you, how handsome he looks on any given night, or just complimenting the way he walks and talks. It's all foreplay for him honestly.
Getting started with your seduction is very simple. Adore him verbally. It gets inside his head and warms his heart. This makes him more open to what you have to offer him on an intimate level.
He is also very stimulated by talking about intellectual topics of a variety. Show the Cancer man you have a brain and he's going to be very interested in wanting to get to know you much better.
Your Happiness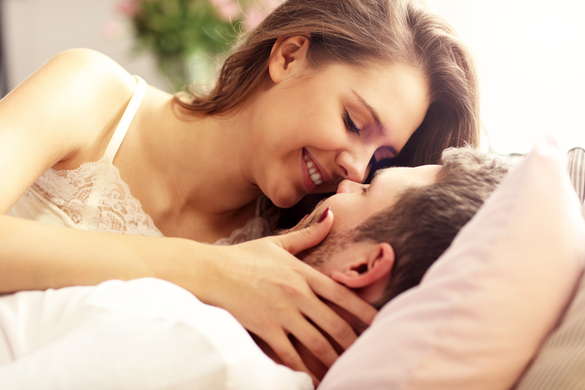 The way the Cancer man operates is via making the woman he cares for happy. This includes making her sexuality a huge priority. He will do whatever he has to do in order to make you feel the ultimate in pleasure.
How does he learn how to get there? You talk to him and tell him. When he does something you like; tell him. If he touches you in a way that makes you swoon when he kisses you; tell him! It will turn him on to turn you on.
This is some more foreplay that will help lead to a very sexually fulfilled life between you and your Cancer man. Feedback on everything he does for you or to you will make him feel good which will then turn back to making you feel good too.
This circle of desire will build and make it a huge turn on for him when it comes to finally getting in between the sheets with you. Build him up emotionally and mentally; you won't regret it.
This man aims to please and helping him be fulfilled by telling him how amazing he is; will fulfill a super erotic circle of trust. Reaching his mind and emotions via compliments or positive reinforcement will make him feel safe and secure with you.
Fully Get to Know Him
There is nothing more of a turn on than for a guy to feel appreciated by his woman. The more you know about him; the more you know what he likes to talk about, what he likes to eat, what pleases him, and what makes him feel good.
It typically will take a good while before a Cancer man will open up and reveal his secret world to another person. Even when he's really into someone or falling in love; he'll still keep some of his secrets to himself.
However; when you really learn who he is; you'll be able to draw some of his innermost secrets out without him really even blinking an eye. Trust and security is what this man craves.
When he gets it; there is nothing he won't do for his lady love. You can make him swoon by getting him a gift that speaks to his heart or to his mind. It will stimulate him in many ways.
Again, this takes getting to know him and figuring out what it is he really enjoys in life. Once you do that; you open the door for options to make this man feel like he's the King of the world and of your heart.
Getting Him in Bed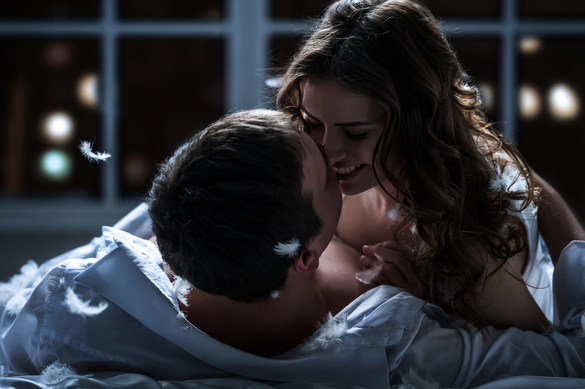 If you've done all the other work to get closer to the Cancer man; you can finally seal the deal with him by wearing warm scents such as vanilla, musk, patchouli, sandalwood, or other wood types of smells.
Wear some really sexy lingerie underneath your clothes. You can even show up on his doorstep with a trench coat on that when opened; reveals your sexy thigh highs, garters, and corset.
He will be so turned; he won't be able to turn you away or argue with you that you should wait. If you invite him over; you can answer the door in thigh highs and a tie that you bought for him.
I hope you get the picture of what I'm describing. These are the types of things Cancer men really get hot for. The other item to add to this list is emotion. He often ties sex with emotion and love.
Romance is something Cancer men are VERY good at and will appreciate a woman who is equally as "in love" with romance as he is. Light scented candles to make the room atmospheric.
Naturally, if you cook him dinner or dessert; he'll absolutely be convinced that in bed with you is the only place he really wants to be. Softly touch him, gently kiss him, and slide his hands in the places where you want them to be.
Allow him to massage your sensitive areas and then tell him how good it feels. Tell him how much you love him or crave his touch. That'll do the trick!
What to do next?
First…
I've prepared FREE copy for you: grab your Free Copy of 30 Dirty Little Secrets About Your Cancer Man here >>
Second…If you'd like to REALLY get to know ALL about him, you'd want to learn more about my special series Cancer Man Secrets here. It's the most detailed "manifesto" about the Cancer man ever created, and it has helped thousands of women like you catch and keep that special Cancer man in their life. Don't wonder, know, exactly what your next move should be.
Share your story (or situation) with our community in the comment section below (don't worry, it's anonymous).
Wishing you all the luck of the universe
Your friend and Relationship Astrologer,
Anna Kovach