Have you just started dating a Cancer and wondering if you are what he's looking for and if you'll be able to fulfill his needs? Maybe you two have been together for quite some time and you just want to cater to him? If you want a bright future with this man, here are some of the best tips on how to make a Cancer man happy.
1. Be his confidant and best friend
One of the biggest things that makes a Cancer man happy is to feel safe and secure around his woman. He wants to be able to tell his lady love everything and anything and to fully trust her.
He wants her to be his best friend, lover, confidant, and future wife. He also wants someone that will make a great mother to his future children. To get there he knows that trust has to be the main ingredient.
Be the woman he feels he can trust with all his secrets, desires, and future plans. It may take him a little while to figure out if you can hold it together, so try not to break his trust.
However, Cancer man can sometimes jump very quickly into a relationship if he feels intuitive that the woman he's investing in is possibly exactly what he's looking for in an eternal match. So, you need to earn his trust over time.
2. Cook for him and be a true wifey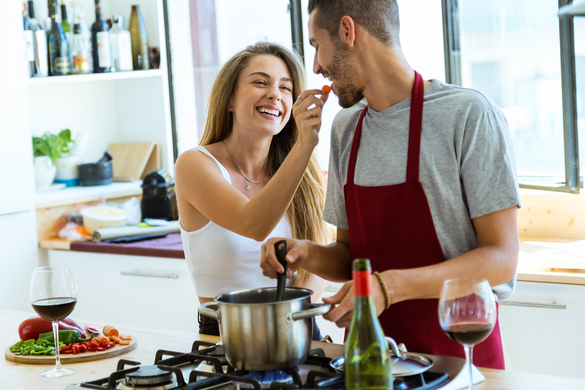 Cancer men are amazing cooks and spending time in the kitchen makes them truly happy. However, they'd like to find a partner that will want to spend time in the kitchen with him. He considers it so fun and women who love to cook get extra points with him.
He doesn't expect his woman to be the "stay at home" type but he will appreciate a woman that can do it all. I'm talking about the woman that can hold down her career but also take care of the household and family.
Cancer man is a wonderful homemaker as well. Sometimes they are known to be a stay at home husbands or fathers. However, he still would love to have a woman that can do it all thus taking some pressure off him.
If you can cook, keep things clean, and are family oriented, you will make him eternally happy. Having goals of your own will turn him on as well so don't give up your dreams to stay home if it's not necessary.
3. Show him he's needed
The Cancer guy is looking to find a woman that will make him feel needed. I'm not saying she should be unable to do things for herself. I'm saying that asking him to do things for you here and there will make him feel as though you need him.
Don't do it too often though as he'll decide that you're unable to do anything for yourself which will be a turn-off. Asking him for help with your car or to help you organize your things will make him feel useful and oh so happy.
When a Cancer man feels not needed, he starts to sink into a depression and may end up calling things off. Truly, he needs a woman who will use her feminine ways and find things he can do to keep him busy and feeling worthy.
Even if it's something simple like asking him to take out the trash, walk the dogs, or other various "honey do" types of things, he'll be happy and feel fulfilled being with you.
4. Give him lots of love and affection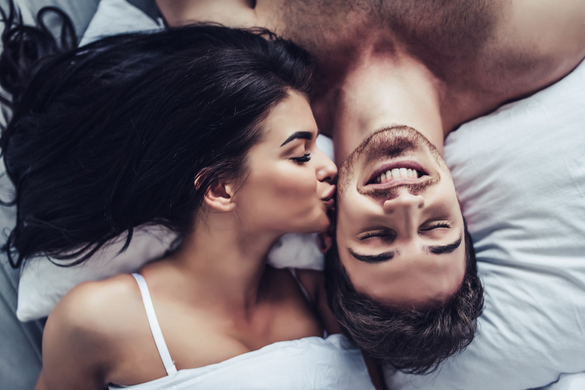 The Cancer man is very sensitive and needs to feel loved to be happy. He requires the security of having lots of tender loving care from his mate. He may not be good at giving it to himself, therefore, seeks it out in his partnership.
He will need lots of loving, lots of hugs, kisses, and compliments on the things he does right. Positive feedback makes him feel he's a man and that he's doing right by the woman he loves.
Telling him how much you care and why will make him feel like a million bucks. Complimenting him on how he looks getting dressed for work will boost his confidence.
Throw him some "you look so sexy" types of comments. He'll really appreciate it. He'll also be very likely to return such types of flattery. Give him lots of loving and he'll give you that much more right back.
5. Shower him with romantic gestures
If you wonder how to make a Cancer man happy than this is one of the best ways. Since the Cancer man is a romantic type himself, he'd really prefer a woman who is also not a stranger to some really hot romance herself. Being able to indulge in hot bubble baths via candlelight will be a huge turn on.
He is a very physical guy and enjoys sex quite a bit. He will often tie his emotions into intimacy so if he's in love with a woman, he'll show her by making sure she's well pleasured. Giving him pleasure will also assure him that you're in love with him and wish for him to be your guy.
These are not just confirmations but they're also confidence building for both parties. Write him some love poems or songs. He'll really dig it! Send him some sexy photos of yourself and he'll be your love slave for life! Truly he's easy to please if you can show him your romantic side.
There isn't much that is too taboo for this guy. He doesn't mind experimenting with his partner and trying new things. Anything that will be sexy and bring him and his lady love together will be something he's willing to do.
Cancer men need lots of time, affection, adoration, compliments, and assurance that everything is going to work out and that the woman they are with is absolutely just as in love with him as he is with her.
Security is absolutely everything to this guy. If he ever feels unsafe or insecure, he will not stay in the relationship. So it's important to establish a connection that makes security strong and worth it.
If you're ready to learn how to make a Cancer man happy, and if you want to catch him and keep him click here to learn more about Cancer Man Secrets.