Every month, the planets change signs and affect our relationships. Depending on the planetary movements, it may be tough to understand the needs and desires of the Cancer man. But with my tips based on the monthly energy, you can draw the attention of a Cancer man or improve your relationship with one in October 2020.
Attracting a Cancer Man in October 2020
1. Be a Homemaker
After September's "go with the flow, take it one day at a time" vibe gone, October 2020 brings a month of stillness and much-needed self-reflection. Last month was an active month for this loner man.
Instead of going out and spending time with multiple groups of friend circles and acquaintances, the Cancer man will want to stay closer to home and focus only on intimate friends and immediate family. No more big crowds for him this month.
With the Sun in Libra highlighting the Cancer man's fourth house of privacy and emotional security until October 22, this is the time of year the Cancer man slows down and turns within for a much-needed soul break. He is preparing himself for the next leg of his journey. 
Because people-pleasing Libra rules the Cancer man's fourth house of Home, make sure his interests are a priority to you too. During this transit, the Cancer man is most attracted to the woman who knows how to be a good host and a homemaker. He wants the best of both worlds. 
If you live in the same home or share space frequently, it's easy to please him without going overboard. For example, if you don't like to cook or have zero interest in cooking, there are other ways to fill this domestic man's cup.
For example, make sure the house feels like a home. Put out fresh candles, burn or spray his favorite scents, keep fresh sheets on the beds, and have plush towels — all little ways to make him feel cared for. 
If you and the Cancer man do not live together or frequently share space, there are still other ways to make him feel at ease. 
For instance, you could plan a delicious at-home dinner night for two. You could purchase or make decor items that match his home's theme (extra brownie points if you make them). Or you could go grocery shopping for him so he can be prepared for the week ahead. 
Cater to and pamper the Cancer man during the period. His focus will shift from rest to action starting on October 22 when the Sun will enter mysterious Scorpio and highlight his fifth house of romance and pleasure. 
2. Talk It Out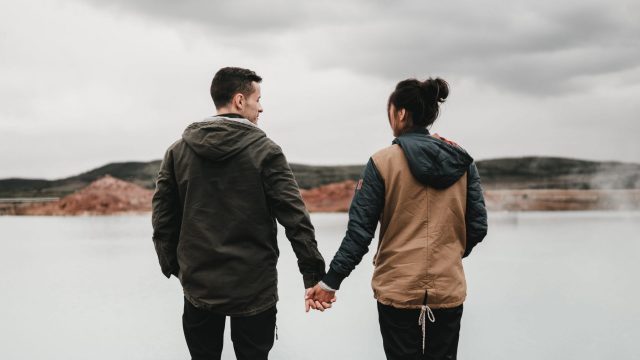 Getting the Cancer man to open up and express himself is never an easy task, but with the right amount of patience and due diligence, he will come around. 
In some cases, these water-ruled Moon men are known for their grand emotions and temper tantrums, but that isn't always the case. 
In October 2020, Mercury the planet of communication will station retrograde in Scorpio and Libra, bringing a period of self-reflection and introspection to the moody man. 
During this transit, Mercury will highlight his fifth and fourth house, bringing a strong emphasis to his mindset on combining love or a new relationship with his work//life balance. 
Because of mercury retrograde, the Cancer man may be having second thoughts about a recent relationship decision or he may have subtle fears about commitment.
To ease his mind and build trust, talk it out. Let him know verbally that you are on the same team. Make sure he feels heard. 
By talking it out, you show him that you are willing to keep the lines of communication flowing. You are letting him know that you can be a source of inspiration for him and a true team player. 
3. Keep an Open Mind
When it comes to his thoughts and beliefs, the Cancer man can be very traditional. He wants a strong, united family that sits down for dinner every night and talks about their day. He is a true family man. 
However, with Venus in analytical Virgo, the Cancer man could be more opinionated than usual. He is more forthcoming about his desires and what turns him on. 
For once, he's more fluid and adaptable. He's more willing to keep an open mind. 
Because Venus in Virgo highlights his third house of perspective and communication, this is an excellent time to discuss your short-term goals for the future and how you can help each other reach them. 
If at any point you find yourself in a disagreement, go back to the basics. Remind yourself of your promise to always be honest and open-minded to each other's ideas. Be respectful. 
At the same time, Venus in Virgo influences the Cancer man's desire to give. During this transit, this is an excellent time to show him your appreciation by doing something thoughtful. There is nothing sexier to him than a woman who can compromise. 
Besides, who knows, he may be planning some Virgo-like extravagance for you too. 
Read next: 7 Things to Talk to a Cancer Man About When You're on a Date
4. Break Through Obstacles
After five long months of retrograde season, Jupiter and Saturn, the planets of expansion and responsibility are both direct in October. This forward-moving station brings relationship breakthroughs, especially for the Cancer man. 
With Jupiter and Saturn both highlighting his seventh house of partnerships and marriage in Capricorn, you can say this has been an intense time of challenges for the Cancer man. 
From divorce to breakup, to unexpected family and home changes, this man has seen it all. 
But this October, Jupiter and Saturn reward him for the hard work he's shown over the past five months in his relationships. 
So, instead of making him feel bad for anything you may be less than pleased with, forgive and move on. 
Be a positive role model and practice compassion. Be strong and breakthrough any power struggles or boundary issues you may be having. Show him that you are willing to call a truce and bend. 
Overall, October 2020 is an excellent month to attract and build a healthy relationship with a Cancer man. If you want to keep his attention, be a homemaker, talk it out, keep an open mind, and breakthrough challenges. Show him that you're here to stay. 
For those who are ready to dive deeper and start your journey to unconditional love with a Cancer man, my guide Cancer Man Secrets is better than any daily, weekly, or monthly horoscope app you'll ever read. 
Instead of just giving you the basic knowledge of the Cancer man, I share real-life stories and examples of women who have been where you are and now have the relationships of their dreams.
In this intuitive guide, I'll share with you my top secrets for winning the heart of the Cancer man. If you're ready, purchase Cancer Man Secrets here.
And why not take my free love and compatibility quiz to find out if you and your Cancer man are a match?
I'd love to hear your results in the comment section below!
Your sister and relationship astrologer,
Anna Kovach 
---
---
Similar reads