The Cancer man is one who craves lots of attention from other women whether he's in a relationship or not. Whether his partner is the jealous type or is alright with it, he needs to know it's not alright to pursue other women while he's supposedly committed. What can you do about it? Keep reading for some information on what to do when a Cancer man likes to chase other women.
The Eternal Flirt
You need to understand that the Cancer man is very flirtatious. Even when he's in love with someone, he still likes or craves attention from other people. He's much like a Libra or Leo in this sense.
He thrives on people giving him compliments, seeking him for advice, or telling him how awesome of a person he is. When women flirt with him, he also feels more alive about himself thus doesn't like giving up that feeling.
In fact, Cancer is a water sign who could easily become prone to addiction. This can be any type of addiction including needing attention from others or even sex addiction.
It will depend on what he feels he needs to feel good about himself or feel validated in the eyes of others. He may not be that extreme and may just like an occasional harmless flirt.
The thing is, when he's committed to someone, he shouldn't be craving so much attention from other women. He doesn't understand that this is something that could hurt his partner or could cause his partner to leave.
Sometimes they do understand this and then are very sneaky in their approach. They'll talk secretly online or via a dating website to one or multiple women even if they never intend on following through.
How in the world can you make them stop this nonsense? What can you do to make sure that they keep themselves clean and away from flirting with other women?
The problem is, normally you can't. You can either accept he's a flirt but tell him there is a limit. You can tell him, it's alright to flirt but no talking about sex, no purposefully hitting on other women, and no cheating.
Tell him that him flirting makes you feel as though he's cheating on you and that is simply unacceptable. Unless he's addicted he should respect you enough to abide by your wishes.
Sought After Guy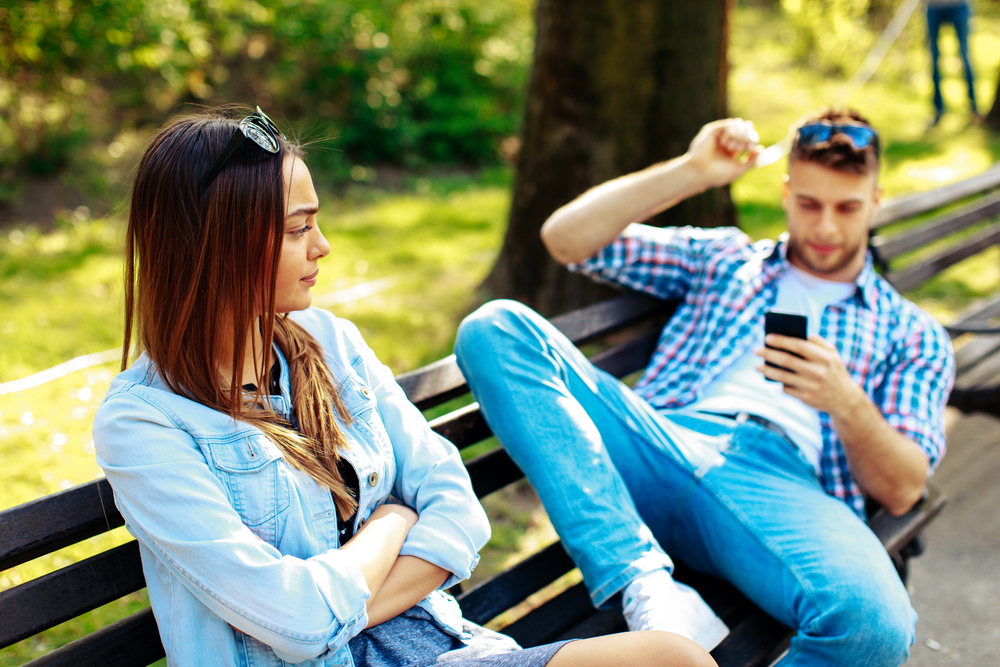 What many women may not realize is that the Cancer man is very soft spoken, sweet, caring, and giving. This makes sometimes appear as though he is flirting when actually, he's just being nice.
The Cancer man is a humanitarian and genuinely cares for people. This can be misconstrued as "special attention" when that's not what his intention ever was. This makes women decide to try to pursue him.
When it's this type of thing, he simply needs to put his own foot down and tell the woman that he is in a committed relationship or marriage and he's respectful of his partner. He'll shut them down nice and easy.
If he doesn't and decides to buy into this attention then you will need to put YOUR foot down and tell him how unacceptable it is and tell him to either be with you or choose to go on without you.
This is one of those times where an ultimatum is probably necessity when it comes to the Cancer man. If he's addicted however, it may not be as easy as that. Addiction is something that has to be handled and cured by the person as well as with medical or psychological help.
Otherwise, you just simply have to tell him how you feel about it, why it makes you uncomfortable, and why you would prefer he respect your wishes to not do this sort of thing.
Love and Family Come First
If you are in a serious relationship with a Cancer man or are considering marrying him, you're going to need to remind him of the importance of your relationship and the future you have together.
Remind him that if you're going to be together for long haul, marry, or even have children that he has to give the family all his time and attention including loyalty. At that point he has to choose what he finds more important to him.
Some Cancer men flirt very lightly but don't chase after other women. They just simply take compliments where they can get them but don't cross any lines in order to obtain it.
However, if he's seemingly chasing after other women and you find out, you've got to absolutely put rules into place. You can absolutely tell him it's either them or it's me.
He will have to decide what he feels is most important to him in his life. If he chooses you then he must adhere to what you've agreed on or you will at some point decide to walk.
If he chooses to be single because he's not ready to give up chasing other women then you'll also have to be prepared to let him go even if it hurts. What do you want? Do you want a man who is loyal or a man who is only loyal when it suits him?
Think about your own heart and what you want. Always be true to you and what your core belief values are. Not all Cancer men are dirty scoundrels but there are plenty that are. You have to figure out the difference with your guy.
In the beginning you should probably tell him loud and clear that you will not accept infidelity of any sort and then list to him what you feel is infidelity so that he's knowledgeable of your expectation.
If he truly cares for you and wants to form a long lasting love or marriage with you, he will do whatever is necessary to make sure you're always happy and that he doesn't hurt you.
If you're ready to understand why does a Cancer man likes to chase other women, and what can you do to stop that click here to learn more about Cancer Man Secrets. 
Share your story (or situation) with our community in the comment section below (don't worry, it's anonymous).
Wishing you all the luck of the universe
Your friend and Relationship Astrologer,
Anna Kovach