The Cancer man and Scorpio woman are both water signs thus making it easy for the two to connect. Are they the best match in the bedroom or do they possibly fall short? Keep reading for the information on Cancer man and Scorpio woman in bed.
Spiritual Connection
One of the most important things between the Cancer man and the Scorpio woman in bed is their spiritual connection. They both find much more meaning in sex together than they do with other partners of other signs.
The two seem to understand each other on deep levels that others cannot comprehend. This makes them able to connect and find sex to be very fulfilling and spiritually evolves them.
While these two could find satisfaction with a tryst, they actually make fantastic life partners that would fulfill each other for the rest of their lives if they give it a chance to.
Depending on what you're after as a Scorpio woman, the Cancer man could prove to be an amazing match for you if you want more than just sex. If sex is all you want, you'll find him to be quite appealing.
He will understand you very well both in and out of bed. He's very sweet, caring, and attentive. He'll give you security if you really want it but if you don't, he'll be all too happy to bring ecstasy into your bedroom.
Cancer man is up for kinky things and you as a Scorpio woman, are a bit kinky yourself. This makes the two of you able to have a really hot time together whether it's once or if it's a long stretch.
It really depends on what you want. What I will say though is that Cancer man is typically looking for his "soul mate" and thus a sex arrangement is possible but not long lasting. Once he finds his "one", he'll move on.
This is why it's important that if you're really into him and want more than just sex, you let him know. Holding back or playing games won't make him feel secure. Cancer man is seeking security in love.
Sex is really fun and he has every capability of having a one night fling or a "friends with benefits" situation but don't ever think he will progress that into a relationship. That's not how it works with him.
He will want someone who isn't willing to be a friend with benefits to settle down with. I know that sounds like a double standard and really… it is. However, that's how he operates.
If sex is what you want from him, unless he's committed to someone else, he will be up for it but if you want something more, you'll have to make sure that sex isn't the priority otherwise you'll end up in the friend zone permanently.
Commitment or Not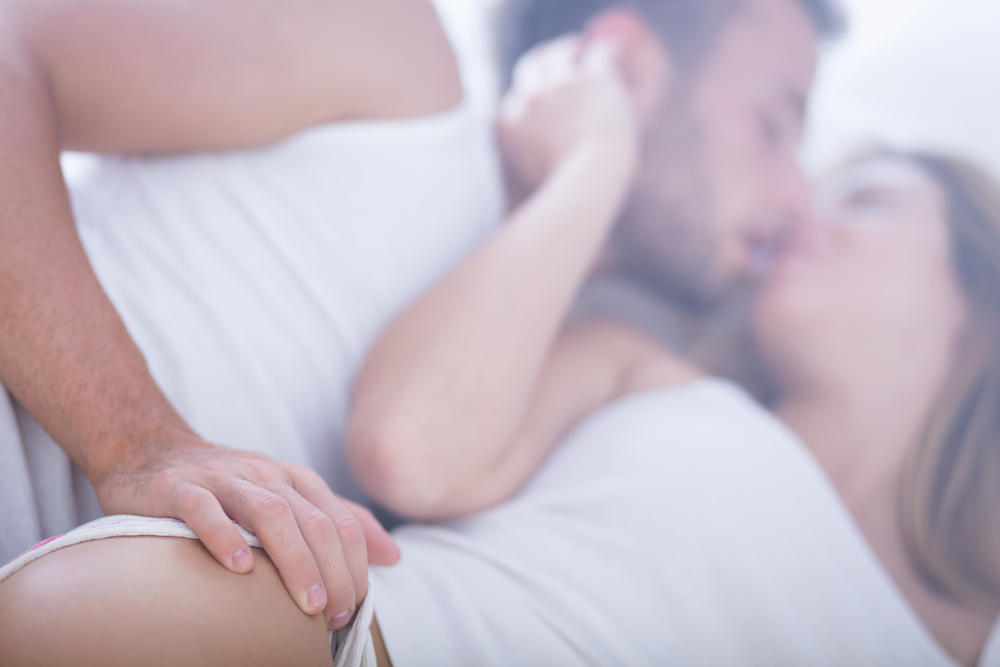 The level of satisfaction you feel with the Cancer man will be based on his level of commitment. Sex is typically fantastic with a Cancer man but he will hold back for the woman he ultimately wants to marry and have a family with.
He'll never give you his all and will remain mysterious to a point. While he may agree or suggest a "friends with benefits" arrangement, he won't give you everything he will give his future wife.
Again, you will need to decide if you want just a casual thing with him or if you're hot for him, want sex, but need more from him.
What do you want Scorpio woman? You're libido is high, I know this. However, you're also a woman and you may not really want to expose your vulnerability to a Cancer man who isn't going to give you 100% in the bedroom unless you're his mate.
While he's definitely attractive and is good at what he does in the bedroom, think about how much better he'd be if you were to actually form a relationship with. You are much like him in that you seek out someone you can actually trust.
Believe it or not, the Cancer man with Scorpio woman relationship typically breeds a nice level of trust. It's a natural thing between the two. Keep that in mind if you find yourself longing for a sexy Cancer man.
Before you get involved with him in any sense, you need to figure out what you're looking for with him and know that he's down for sex but not down to give you his all unless you're more to him.
General Compatibility
The truth is, the Cancer man and Scorpio woman hookup can be so much more than sex if you allow it to be. The two of you make an amazing pair! You have so much in common and would be able to feel very safe with one another.
You can emotionally connect if you keep communication open which does make the sex that much hotter. You probably have a whole lot in common as far as activities in life go too. You can enjoy doing activities together.
I'm not trying to twist your arm to have more than sex with the sensitive and delicious Cancer man but I am telling you that if you want more, it's there. You may differ on life values but nothing you two cannot find compromise on.
Truly, you two would make a heck of a pair if you were to give it a chance. What is it that you want with this sensitive crab guy? Think about it before you agree to anything with him and that includes even a one night fling.
While he will please and you will highly enjoy, there is the risk of the two of you actually connecting on such a deep level that you may find that there is far more there than you could have imagined.
The Cancer man with Scorpio woman match is very lucrative and high scoring on the relationship success scale. Mull it over and figure out what you'd like with your Cancer guy.
If you're ready to understand how compatible are Cancer man and Scorpio woman in bed, check out my brand new Cancer Man and Scorpio Woman Love Compatibility Guide, and if you want to catch him and keep him click here to learn more about Cancer Man Secrets.
Share your story (or situation) with our community in the comment section below (don't worry, it's anonymous).
Wishing you all the luck of the universe
Your friend and Relationship Astrologer,
Anna Kovach