Wondering what some of the things are that attract a Cancer man physically? Of course, there are universal qualities that attract all men, but each Zodiac sign has something they especially like! Here's how to seduce your Cancer crush, using Astrological tips and know-how:
Sometimes, words fail, and that's when actions and body language can do the talking! Seduction is a very fine art, and each person is different when it comes to what they find sexy – and what they find off-putting. 
The Cancer man is no different! This sensitive creature is "mushier" than most, and depending on his ever-changing moods, is not hard to seduce. In fact, he is a very strong romantic side, and very particular things he likes in a woman! 
Cancer is a sign ruled by the Moon, so he loves all the domestic things – home, babies, family, food, and comfort. Some men don't think these things are sexy, but this guy does! 
This is one guy that actually find emotions attractive, believe it or not! He finds a sensitive woman more of a turn-on than one that wears heels and lace. 
So, if you are wondering how you can us your feminine wiles to reel in him, look no further! The below tips are gathered from my years of experience as a Relationship Astrologer, and learning all about what switches the button on for these fellas – and what switches it right off! 
Here's how to wrap him right around your finger and have him wanting more of you! 
7 Things That Physically Attract A Cancer Man
1. A Nurturing Woman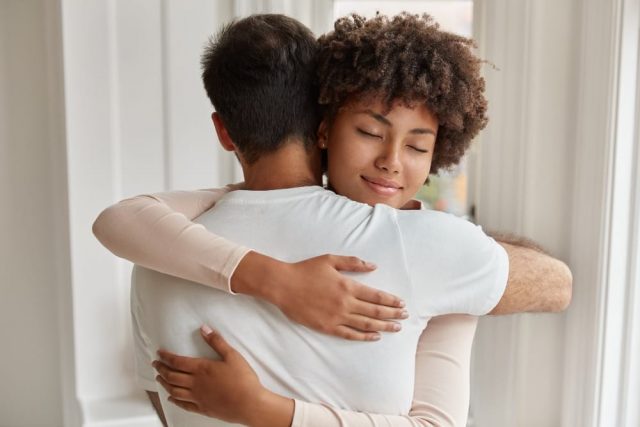 Cancer men really love and are attracted to a woman who's nurturing. This may put some of you off, but the truth is, ladies, this is a sign that would likely want a woman who's the image of their own mothers! 
Being such a mother-orientated sign, Cancer men will subconsciously be physically drawn to a woman who reminds them of the primary female that they were brought up by. 
Maybe it'll be a scent, the way you speak, or the clothes you wear that remind him of her. But, most of all, he'll be attracted to you if you have that special mothering nature. If you know how to wrap your arms around him and make him feel safe, comforted, seen and empathized with. 
Creepy? Not really. Basic psychology says pretty much the same message, so go ahead and nurture that mothering instinct! Cancer men just adore a caring woman.
2. Sexy Cleavage
Let's be honest here – a gorgeous cleavage has never done any woman harm! However, the Cancer man is more susceptible than most to a display of your best assets! Why, you ask? Well, the sign of Cancer is ruled by the Moon, and the Moon rules the, well, you know. 
Hence, when the Cancer man sees a great cleavage, he cannot help but be completely gaga! This, above all, is probably the single most powerful thing you can do to physically attract him. So, go ahead, buy that plunging neckline dress – it will be the best investment you can make!  
3. An Empathetic Woman
One of the most physically attractive things to a Cancer man is an empathetic, intuitive woman. A woman who can sense his moods and his needs, and find ways to make sure she helps meet those needs and falls in with his ever-changing moods. 
A woman, for example, who won't react when he's grumpy (which is often), a woman who sees him, validates him emotionally and intuits what he wants – this woman is hot, hot, hot!  It sounds strange, but it's true. 
Do all the usual things – the sexy outfits, the alluring cleavage. But just know that your sensitivity is the most seductive quality you can have! 
4. A Woman Who Can Cook!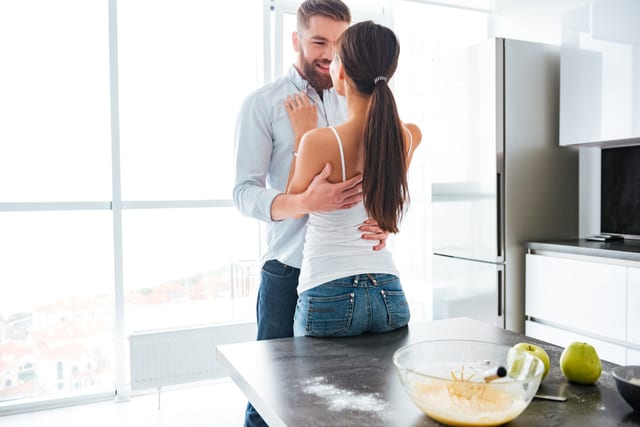 Have you heard of that saying – "the way to a man's heart is through his stomach," before? That quote was practically made for the Cancer guy! 
One of the best ways that you can attract him physically is by first, finding out what his momma used to make. Then, replicating it – obviously without him knowing you did some prior investigation! 
Better yet, do it within him around – wearing your sexiest apron in the kitchen! You'll soon find him sneaking up behind you, wrapping his arms around you and whispering sweet nothings in your ear. Get it, girl! 
5. Flowing, Sheer Clothing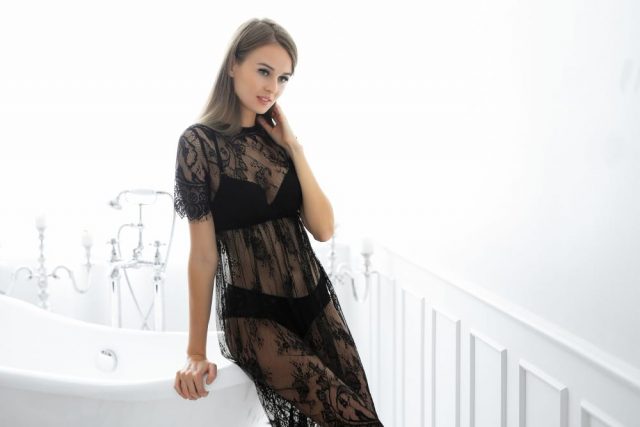 Every guy has a way that he likes his perfect woman to dress. Some like leather, some like feminine dresses, and others like jeans and a T-shirt. Obviously, you should always be you, but you can dress in his favorite things for a special occasion – like when you want to seduce him! 
Being ruled by the Moon means that he just loves sheer fabrics that cling gently to your curves, revealing a little, but not too much. A low, plunging neckline is best, or something that hugs your chest area, which is his favorite!
He also loves flowing, feminine things, so dresses and skirts will always work for the Cancer man.
6. Talking About Your Feelings
It might send weird, but what may attract a Cancer man to your physically is opening up and talking about your deepest feelings. Being vulnerable, honest, and real with him about your past, your dreams for the future, and your wishes, will make him feel totally connected to you. 
You see, when a Cancer man feels a heart-to-heart connection, he feels far more physically attracted. Sure, he can do one-night stands where there's no emotional connection, but that seldom satisfies him or gets his fire really going. 
So, go ahead – tell him about those feels!
Read next: How to Impress a Cancer Man – 5 Steps for Instant Results Guaranteed 
7. The Idea Of Making A Family Together
What can really turn a typical Cancer man on is the domestically sweet idea of settling down and making a home and family together. Yes, you heard right! This is the kind of guy that wants to see mini versions of you and him, as the ultimate act of love.
So, if you're wondering how to seduce him, don't be scared of sharing your hopes and dreams for a family and home one day! You can do this whilst intuiting his moods, making him a meal his mum always made and showing him that great cleavage of yours.
You'll have him practically drooling over you, knowing that you are the perfect, sexiest woman he has ever met – his ideal match! The woman he can make a nest with, the woman he feels safest with – that's who he finds sexy! 
Does this ring true for you? Have you ever seduced a Cancer man? What tips and tricks could you share with us that worked? What do you think he finds most physically attractive in a woman? And what seems to switch him off? 
I just love hearing from you, my readers – please go ahead and share your unique stories in the comments below – you will stay completely anonymous! 
If you'd like to learn more about this sensitive, caring sign, check out my book on the Cancer Man Secrets right here.
And if you feel like you need some private guidance on your relationship, I've still got a few spots open for my 'VIP Consultation' service that you can book here to get instant clarity and guidance. You can book your private consultation here.
Your friend and Relationship Astrologer,
Anna Kovach