Hi, there ladies! How was your February? Full of love and romance I hope! March is probably the most important month of the year, so hold onto your bootstraps because a lot is about to change in the world and the psyche of your Cancer man. Everything is about to change!
Jupiter and Venus are both in the sign of Aries this month! Your Cancer man is going to experience a lot of luck and blessings in his work and career for the next while. This is a great time for him to grab some opportunities that can help him to get ahead in his career. He needs to be okay with shining bright in the spotlight. So guide him gently and make him understand his worth. 
The Full Moon in Virgo on March 7 will give a boost to your Cancer man's schedule. He may be busy doing all kinds of things over the next few days. It is a really good time for him to sign papers on even just communicate his needs with others. You may notice him being a bit more anxious than usual, and this is because this lunation is spiking his mental activity. 
Saturn enters Pisces on March 7 which is going to bring massive changes to the world and your Cancer man is most definitely going to feel this in his area of beliefs, philosophies, as well as foreign lands. There is a very big possibility that your Cancer man may have to make a move and find himself residing in a different country due to this transit. A big adventure awaits him.
Pluto enters Aquarius on March 27 and this brings a turning point in the world as this planet is going to stay in this sign for the next 20 years. The changes will start out subtle, but a very big shift is about to take place in his relationship with intimacy, psychology, trauma, debts, and death. This is going to be an extremely transformational time for your Cancer man. All his childhood trauma might come up to the surface and he is being pushed to deal with any unhealed wounds.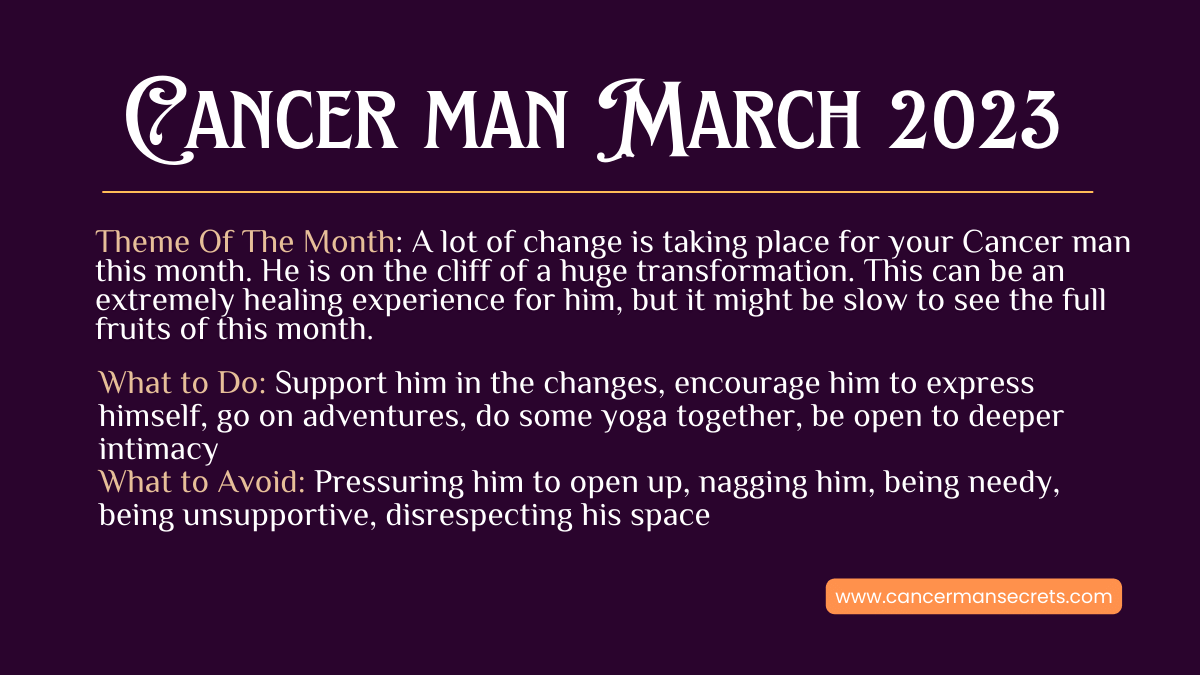 Theme of the month: A Cancer man will question his finances this month, the way he is saving money, and his diet. Another topic for his mind to maul over will be philosophy, travel, and how passionate he is about his daily life. 
Magic Phrase: "You always manage to cheer me up and make me feel better."
Text Magic: "You make me feel like the most beautiful, most special woman on earth."
Do: Support him in the changes, encourage him to express himself, go on adventures, do some yoga together, be open to deeper intimacy

Avoid: Pressuring him to open up, nagging him, being needy, being unsupportive, disrespecting his space
Access your Cancer Man's Full 2023 Horoscope Here 
Making Big Moves
With Jupiter and Venus both in your Cancer man's career house, he is bound to shine bright and be in the spotlight. He really needs to grab this opportunity because this time is extremely fleeting and he'll regret not taking the chance to further his dreams and career. 
It is important that he put himself out there and reach out to the right people to help him get noticed. It would be really good if you could support him in this and gently nudge him to just go for gold. 
Of course, you shouldn't pressure him too much. But words of encouragement can instill a lot of confidence in him and he will always remember how you believed in him, even when no one else did. 
These are the moments that build intimacy and help two people to really connect and bond with each other. 
Busy, Busy, Busy
The Full Moon in Virgo is going to have your Cancer man jump from one task to the next as there may feel like there is a sense of urgency happening in his life at this moment. He is going to feel the need to finalize work, sign documents, and connect with all the right people. 
His mind is likely going to have a million things happen at once, so don't be alarmed if he comes across as a little anxious or misplaced for a few days. Try to calm his spirits and reassure him that he is doing the right thing. 
It may be a good idea for you to offer to help him with some admin if you can see that he is taking on too much. Relieve him of his duties, but don't force him to take your help if he declines, the last thing he needs is you nagging him. 
This too shall pass and try not to take his preoccupied mind as something personal. 
Mindshifts
Your Cancer man's life is about to take a new journey as Saturn moves into Pisces. He may conpletely shift his beliefs and the philosophies he has on the world. Something within him is about to awaken that will urge him to take his thought processes more seriously. 
He may feel a little restricted and like he can't fully access or reach the knowledge he is really looking for. But if he perserveres and continues working hard he will gain great insights about the Universe and his place within it. 
This transit is extremely spritual so don't be surprised if your Cancer man suddenly decides to start doing yoga or disappears to another country to devote himself to some guru. He is going through a process of enlightenment and the best thing you can do is to support him in this. 
The last thing you want to do is try to control him. He needs to explore and be set free. This is unfortunately what he needs. 
Deeper Intimacy
When Pluto moves into Aquarius your Cancer man is going to be forced to dive really deep. This is a process of transformation and healing, but the nature of this transit can be very painful as it has tendency to dig up old wounds. 
Being supportive by giving your Cancer man a lot of love is necessary to help him ease through this transition. If he manages to actually surrender to what is happening to him, the process will flow and be much easier. 
However, if he holds on tightly and refuses to make the changes Pluto is requiring from him, he might really struggle through this process. Be as encouraging as possible because this will definitely help him through the pain. 
Gently suggest to him to speak to a therapist or journal what he is feeling. All these little things will definitely help him to move into the person he is supposed to be. 
This transit also has the potential to help your relationship to grow with deeper intimacy. He is going to want to be closer to him than ever. Allow this to happen as this can be extremely healing for you both. 
Want the guidance to be his dream woman in 2023? Take a look at Cancer Man 2023 Secrets here.
My Final Thoughts
And there you have it my darlings, if this hasn't quenched your thirst, you know where to find me, same place, as always.
March stands to be quite an exciting month for Cancer man and his companion, so make sure that you're prepared for better or worse, and that you sharpen that sensual spirit within him. Be his rock and don't take his changes personally, remember these changes are happening to you on some level as well. 
The two of you should be able to work together as a team to grow closer. Allow the energy of March to unfold naturally, and do your best to try and not control the outcome. Life is much easier when you can accept the shifts and live in the flow of the moment.  
This is a month of major changes and it may feel like a bit of a rollercoaster ride, but if your own spiritual practice is sound and strong and you know how to soothe yourself, then dealing with the changes of your Cancer man shouldn't knock your confidence too much. 
Ask him how you can support him and what he needs from you, but don't forget about your own needs and take care of what you need first. Neither of you is ever going to be the same, but it is better if you can manage to grow together instead of apart. 
So have fun, go wild, and I'll see you next time around, 
Wishing you love and luck with your Cancer Man, 
Your sister and relationship astrologer, 
Anna Kovach
---
---
Similar reads