Hello, my dear readers, how are you and how was the big night of welcoming 2023? More than great, I hope, for we're about to dive into the forecast for the first month of the new year for your Cancer guy. 
The first week of the first month of 2023 offers an opportunity for the Cancer man to get this sheep in order and to finally be able to sleep better. This week is not good for drama and instigating further tension; instead, try to relax and have some fun eating Christmas-y treats. 
The second week of January offers ample opportunity to communicate, share your secrets and feelings, and have fun while judging others. He might be able to find out hidden sides of you (and vice versa) by listening to how you judge others, and what behaviors bother you. 
The third week will transform the Cancer man into a lover-wolf; his mood will be ranging from frisky to kinky, and back again, and he'll be in the mood to show off his recent accomplishments. Accommodate his praise kink and make sure he knows you've noticed both him and his efforts. 
The final week of January offers a great opportunity for the two of you to get out of town and have a blast in a warmer climate. It's also a good time for the two of you to hit a dance floor and leave it on fire. Have fun, you love birds!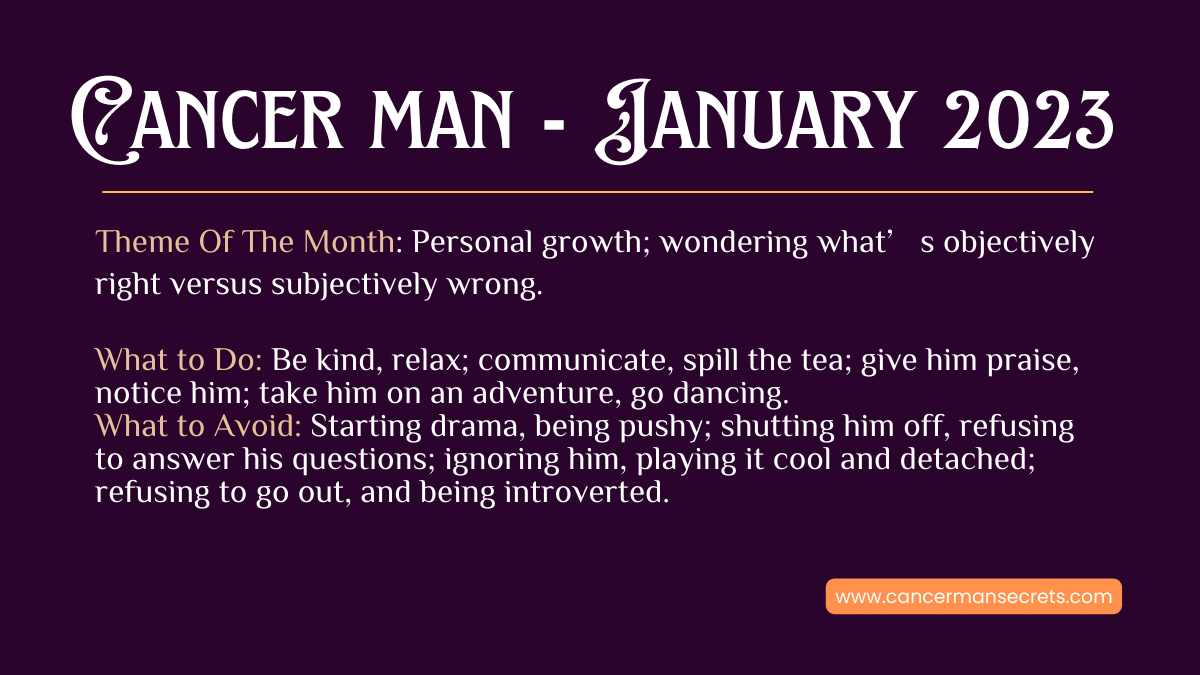 Theme Of The Month: Personal growth; wondering what's objectively right versus subjectively wrong. 
Magic Phrase: Babe, look after yourself, you're not toxic, society is. 
Text Magic: Darling, let's get drunk, hang out and stare at the stars while we discuss how the Moon affects our bodies and our moods. 
What to Do: Be kind, relax; communicate, spill the tea; give him praise, notice him; take him on an adventure, go dancing. 
What to Avoid: Starting drama, being pushy; shutting him off, refusing to answer his questions; ignoring him, playing it cool and detached; refusing to go out, and being introverted.
Access Cancer Man's Horoscope here –> Cancer Man Secrets 2023
I Was Born To Flow With The Moon
The first month of the new year kicks off with some serious introspection for the Cancer man. He will be deep in thought, and he will do his best to work through some undercover psychological baggage that he didn't manage to leave in 2022. 
As the week progresses, his baggage will fall, piece by piece, and he'll be able to focus on himself and his outward personality development; which is good for you because it gives you an opportunity to show off your skill of paying attention to him. 
On the 6th, there's a Full Moon in his first house, and he'll be in a pleasant mood to pamper himself. If you (as his partner or lover) have big or multiple placements in Capricorn, now won't be a good time to start drama or to put pressure on him. 
Instead, you can join in on his hedonistic party, indulge both him and yourself, and have a good time doing only what the two of you like to do. You might hit up a spa, do some relaxing, or go window shopping and post-Christmas treats tasting. Whichever rocks your boat, make sure to be kind to yourself and to each other, and take things slow and meaningful. 
Man in the Mirror
The second week is good for dealing with his finances and for him to open up about his feelings. Communication is the theme of this week, and he'll happily open up about most things that he keeps hidden or under the lead, in a classic Cancerian manner. 
There's a lot of activity taking place in his seventh house, so this means that his mood will be open towards heeding and fulfilling his lover's or partner's wishes; thus, if you wanted to ask something of him, make a date suggestion, or share a romantic idea with him – now's the time. 
This week, his mood will be relatively balanced and reasonable, so he might take you out on a romantic date (or two), and you can expect him to seek out the romantic ambiance and exhibit romantic behaviors. 
This week is a good opportunity for the two of you to communicate your feelings to each other, discuss interesting topics, and share gossip. The Cancer man likes gossip almost as much as Libra and Gemini men do, so feel free to spill it in front of him, it might even get him in the mood. 
Going Through Changes
The third week is all about you, aka his lover or partner. The Moon is making nice transits through his fifth and seventh houses, and the time has come for you to "reap the rewards" for being so open and accommodating to him in the past two weeks. 
His mood will fluctuate from slightly romantic and horny, to really obsessed and hornier. Now is a good time to go on hot and steamy dates, to visit a sauna or a Turkish bath together, and to feed each other tasty foods in bed. 
During the middle of the second week, the Cancer man will have to work on his daily routine and workout regime, so it's a good thing to remember to motivate him and praise his efforts, whether at the gym, at work, or both. Just show him that you care and that you notice him.
Towards the end of the second week, his entire focus will be on his lover or partner, and he will want to do anything in order to please you and make you feel good. Now is a really good time to state your desires and to make demands when it comes to gifts or places you want to visit. 
Feeling Good
The fourth week kicks off with a Super New Moon in Aquarius, and this takes place in his eighth house of intimacy, sexual pleasure, and secrets. Now is a really good time to get pregnant if you're working on having a baby, and it's a great time to begin the initiative of getting that inheritance that's in the cards for him. 
This week will kick off with a hot and steamy mood, but it will grow into philosophical debates and even overseas travel. If he had any free days saved up from the previous year, you could whisper a couple of magic words in his ear, and you two could go on a foreign adventure and have a blast. 
Once you've returned from your happy place, it'll be time for him to advance his career. He will be noticed at work for something that he did, and he will receive the positive feedback or the recognition he deserves. 
The month will end on a positive note, and he will be extra sociable and extroverted towards the end of the week. This is a good time for you two to get out and about and to have some good times in public places, especially places that are crowded and offer good, loud music and a packed dance floor. Go get them, tiger!
Final Thoughts 
There it is, my darlings, the Cancer man's January in a nutshell. His mood will be a bit dicey at the start of the month, but as the Full Moon on the 6th passes, his mood will become more regular and balanced. 
The second week is great for open communication and emotional venting, but don't force your hand too much in either direction; practice a balanced approach and harmonic attitude. Now is not the time to push him around or press him if he doesn't wish to do something. 
The third week is all about that hot, steamy sex and getting your creative (and otherwise) juices flowing. He'll be in beast mode, so make sure that you're up to par with his libido, or simply skip hanging out with him at this time.
Beware of the final week for you might catch feelings or even pregnancy! 
Three rare transits in 2023 will shake him up heavily but also offer you an incredibly powerful opportunity to make your bond with him stronger than ever…
These planetary transits will play with his subconscious, and he won't even be able to grasp why he's suddenly feeling different.
That's why you need to understand what's happening inside of him and know how to position yourself through the different phases your Cancer man will go through in 2023.
When you align with his subconscious needs, he'll have no other option but see you as the only woman that ever got him.
Want to be the only woman he ever needed? In his most challenging, but also in his most fun and beneficial times?
Then make sure you go ahead and grab the opportunity to prepare for 2023 on time. Check what I've prepared for you in the link below.
–> Make Your Bond With Cancer Man Stronger Than Ever in 2023
Stay creative, free of mind, and free of spirit. Until next time, my darlings.
Love and light,
Anna Kovach
---
---
Similar reads