Hello my lovelies, how are you?
How was January, tell me all about it in the comments, but before we get to that, let's dive into Cancer man's predictions for the most romantic month of the year, shall we? Let's go! 
The 1st week is a bit on the problematic side when his emotions are concerned, he's going to be a bit childish and spoiled, and around the Full Moon he might go haywire, but that's just a phase, so don't worry too much about it. 
2nd week should be reserved for eloquence, communication, and secluded passion. This is a great time for dates with intellectual activities, and for steamy nights spent in your Bat-cave. 
3rd week offers a good chance to talk about the state and further progress of your relationship, and towards the end of the week, you might go on some fresh and exciting 'extracurricular' activities that will bring you even closer together. 
4th week offers a pleasant way to grow and enhance his spirituality and freedom, as there's a Super New Moon in Pisces on the 20th, and after that, it's all good vibes and positive surroundings.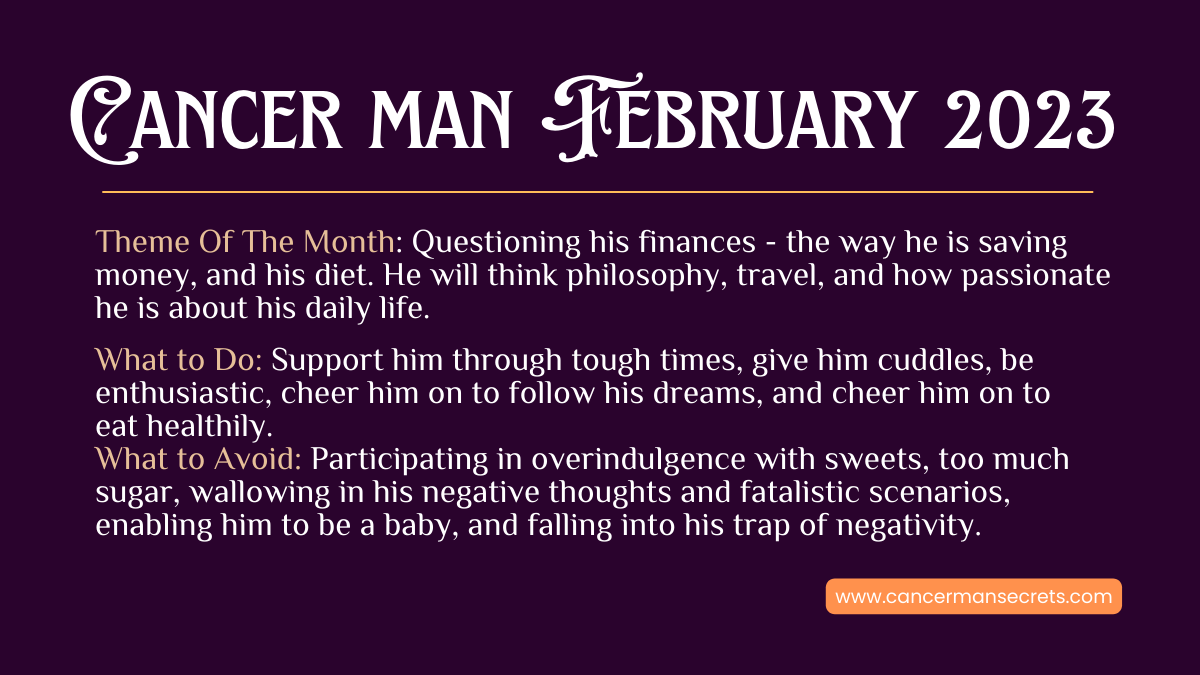 Theme of the month: A Cancer man will question his finances this month, the way he is saving money, and his diet. Another topic for his mind to maul over will be philosophy, travel, and how passionate he is about his daily life. 
Magic Phrase: "Babe, not everything is about money, there's more to life than financial stability"
Text Magic: "Darling, everything is going to be alright, money is just energy, and the more positive you are, the more of it will come to you, rest assured".  
Do: support him through tough times, give him cuddles, be enthusiastic, cheer him on to follow his dreams, and cheer him on to eat healthily. 
Avoid: participating in overindulgence with sweets, too much sugar, wallowing in his negative thoughts and fatalistic scenarios, enabling him to be a baby, and falling into his trap of negativity. 
Access Cancer Man 2023 Horoscope Here 
Titans from the deep, arise! 
During the 1st week of February, the Cancer man's mood will be a bit stormy; first, his intuition will go wild, then he'll want all the attention to himself. This is a good time to soothe him and his fears about the things his intuition has been going wild. 
It's also a good time to let him know that there's no one besides him who has your heart and that his feelings are safe with you, but don't go overboard for him just to soothe his paranoia if he gets clingy and tiresome, let him know that you're a human being, just like him, and that it's not your job to (s)mother him. 
On the 5th there's a Full Moon in Leo, in his 2nd house, and this ought to awaken some fears and deeply rooted programs about poverty; he is a bit on the spoiled side, and as such, he'll feel down, and depressed that he doesn't have (yet) all of the luxury and convenience that he desires. 
This is just a 'superficial wound', he should not be paying attention to that kind of thinking pattern; instead, you could guide him to question the real root of his dissatisfaction and what is he trying to accommodate from within that is making him feel the way he is. 
Love you to the bone…
The 2nd week calms his feelings down, as the Moon progresses through analytical Virgo. This is a good time for logical and honest communication, and don't give in to his manipulative outbursts. He'll go as far as you allow him to, so make sure you put a comfortable leash on his emotional (wild) horses. 
This week offers a good moment to go out on cozy dates, try out new coffee shops and visit art galleries together. If there's a class you've both been interested in, now is your chance to try it out, as a duo!
When the 2bnd week draws to its close, He will be extra kinky and romantically wired; but, as it goes with the Cancer man, he can never turn completely his emotional manipulation off, so it's up to you to discern with your sharp eye, what you'll allow passing, and what you'll put a stop to. 
The end of this week is excellent for home gymnastics (if you know what I mean, he he), and to be huddled and cuddled together in a warm and dark place, preferably lit with cozy and nice-smelling candles. It's time for romance, and for some serious loving. 
Hey Barbie, let's go to a wild party
3rd week puts Cancer man in a relatively good mood, and you remember how needy he was at the start of the month, well now it's your turn to take the center stage, and to be needy as much as you want. 
This is a great time to go out on fun dates, participate in interesting activities (like board games, or horse riding), and talk about long-term plans for your relationship. This might feel like a time to end some chapters, in order to make room for something new, and this is thanks to Saturn being on its final degrees in Aquarius. 
This week offers a good opportunity for the two of you to sum up your relationship progress thus far, and to (re)align your hopes, dreams, and goals for the upcoming period. 
Towards the end of the week, his libido and sex drive will be off the wall, so it's a good time to experiment in bed or to take Tantra, or Shibari classes. Do something unconventional, exciting, and fresh, don't be afraid to experiment and have fun while doing so. This is a perfect time to get to know each other, again, and on a new and deeper level than ever before. 
Super New Moon in Pisces is super spiritual and creative, no doubt
The final week blasts off with a Super New Moon in Pisces, in his 9th house. This is a great time to plant the seeds in his head for moving abroad; or if you've already worked out the details, now is the time to actually make the leap of faith, and just move. 
It's a great time to elevate his consciousness and to make him aware of some deeper and more meaningful themes and things in life. Cancer man has a tendency to overthink money, and to worry about finances unnecessarily. This is a good time to explore each other's creativity, spirituality, and vitality. 
As the week progresses, his career and social life will receive the spotlight, thus it's a good time to take him out on a fun, fancy date, or to organize something with his friends and host a fun gaming night. 
At the very end of the month, his mind will wander to his wishes, aspirations, and dreams, and this is a good time to engage with him in meaningful conversations that have the potential to inspire both of you for some greater things and greener pastures.
Want the guidance to be his dream woman in 2023? Take a look at Cancer Man 2023 Secrets here.
Final Word 
And there you have it my lovelies, Cancer man's month of February at the palm of your hand. I know he won't be the easiest man to cohabit with during the first two weeks, but at least he'll have some character development and offer proper romantic times. 
If you feel the need to know more then find me here and book your very own Astro reading to clarify all the doubts you might have. 
February is going to be a 'quiet before the storm', as we storm into March and all the major changes take place, so enjoy it with your watery man, and try not to babysit him too much. 
My advice is – to introduce him to some more responsibility by allowing yourself to ask him to baby you, now and then, yes… So with that in mind, I bid you farewell until the next time. 
Wishing you love and luck with your Cancer Man, 
Your sister and relationship astrologer, 
Anna Kovach
---
---
Similar reads