Welcome sweethearts, are you ready for the big reveal on your Cancer man for April?
Last month he had a lot of energy and enthusiasm but this month he's ready to step out into the limelight big time. It's akin to opening night. It's time for him to shine, to lead and to show everybody what he's made of.
His focus is definitely on career and he may be looking for your support and reassurance as he takes on more demanding public roles and responsibility.
In relationships, his ability to be diplomatic and considerate can really make a big difference, so he's quite cognizant of his love language and being cooperative as a partner.
Mercury Retrograde in Taurus conjunct Uranus on the 21st of April
Cancer men should be cautious from this point forward of new business dealings with friends, joining new organizations or becoming politically involved. This is a good time to advise him to stand on his own, not to go with the crowd and not believe everything he hears on the grapevine. You may have to keep him grounded.
Be alert to his moods, as he's highly influenced by his intuition and this could make him a little aloof occasionally. It's important for him to understand his intuition, to listen to the inner voice and not to become distracted or deceived by the influx of misinformation or conflicting advice he's getting from other people.
This is not the best time to for him to travel to trade fairs or conferences, it's a better month to encourage him to brainstorm, work on ideas and develop multiple strategies and plan B's.
Sun Conjunct Jupiter in Aries on the 12th of April
With the Sun and Jupiter in Aries this is a fantastic time for him to make a good impression. If he has been looking for work this is a wonderful time to send out résumés, attend job interviews or go to auditions. So get behind his career ambitions. It's also a marvelous time to persuade him to grab an opportunity to lead or to fulfil a slightly different position in his current job.
If he's been feeling rather bored and as if his current job doesn't offer him enough scope and doesn't fulfil your ambitions as a couple, this is an excellent time to start casting the net wider, so help motivate him to update all his LinkedIn and other professional profile as he's more likely to be noticed and to find opportunities.
Venus enters Gemini Square Saturn on the 14th of April
This is an excellent month for you and Cancer guy to get back to basics in your marriage. It's important to have space and it may be a good month for you and Cancer guy to get away alone, you should avoid spending too much time with mutual friends or going away with friends, as it's more important for you guys to pay attention to each other without the distraction or even the unhelpful advice of others.
Thoughtfulness and kindness go a long way in relationships, because this month actions speak louder than words.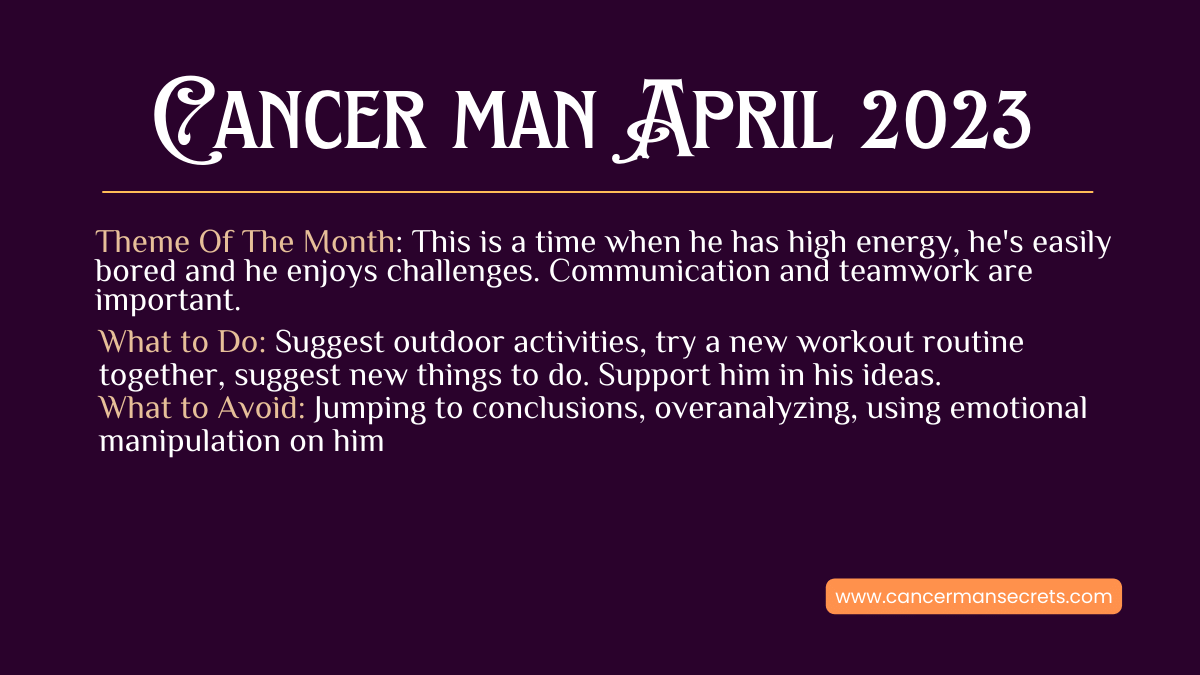 Theme of the Month – He's an action man
This is a time when he has high energy, he's easily bored and he enjoys challenges, so it's important for you guys to shun routine and to keep your eye out for activities that involve you on a physical and intellectual basis, because within these more adventurous pursuits is the key to romantic magic.
Communication is important, but what's more important is teamwork, so it's vital that you guys are able to agree on a course of action and show commitment to that together, as commitment to mutual goals strengthens the relationship.
Magic Phrase: "You are a winner, I have confidence and faith in you and you will succeed at whatever you do this month."
Text Magic:"We are a strong team and I love doing things with you."
Do: Suggest outdoor activities, try a new workout routine together, suggest new things to do. Support him in his ideas.
Avoid: Jumping to conclusions, overanalyzing, don't use emotional manipulation on him
Access your Cancer Man's Full 2023 Horoscope Here 
Week One – Sports and Fitness
The first week of April is an excellent month for you guys to join a gym or to set yourself targets for self-improvement, particularly regarding health and fitness because you feel quite lively and energetic.
Sporting and outdoorsy activities really suit the energies of Cancer guy and it's good to look for activities to pursue that get the adrenaline and the blood pumping this week. Don't be sitting around or reverting to doing things that involve a lot of house work, screen time and conversation, this is a wasted opportunity. This should be a time when you and Cancer guy feel the sun on your face, the wind in your hair, and you enjoy the improving weather, or if you are in the Southern hemisphere, the fact that it's still rather good weather.
Week Two – Mr. Motivator
He's exhibiting a very positive vibe right now, and this can make a difference to your love life. So whether it be in your relationship, your family life or your sex life allow him to lead, inspire and motivate you, because he has a slightly more energetic and positive approach than usual, and he can use this to help everyone to feel more excited or aware of potential. So go with it and appreciate this proactive vibe of his.
So this week there is a really happy, positive atmosphere within the family arena. It's a week where he's in that really ambitious Cancer mode and that can make a difference to the mentality of the whole family.
Week Three – Rocky Romance
This is a really good time for dating as he's proactive in love, so if he has had his eye on you, this is the week for him to test you out and discover if you would be willing to go on a date. However, it's very important for you to be subtle, use all your romantic charm, and choose dates that involve things like movies, dancing and activities that are likely to be quiet relaxing and inspirational. Don't come on too strong.
Now while you can live it up in love with enthusiasm this week, your expectations are pretty high and you do need to manage your expectations because relationships that start now are promising, but they may not move that quickly because he could be shy and a little bit more recent than he first appears.
So, if a relationship with Cancer man stalls or begins awkwardly, it doesn't mean it's a non-starter it simply means that you are both still a little bit nervous and need time to find your feet in the relationship.
Week Four – Rising to the Top
While the Mercury retrograde period from April 21st is a time when he should be cautious in communications, travelling, and his business dealings, that doesn't mean he has to take his foot off the gas. With Mars in his first house, he's highly motivated and energetic, making this a fantastic time for entrepreneurial activity, competitive activity and sporting pursuits. So, yes he's doing things that take him away from family, but if you get on board, you can all enjoy the ride.
So, how does that all sound, my Darlings. Remember, I'm always here to guide and support you.
Overall, a fantastic month! There's no time like the present, so stick your foot on the gas, do it now and feel the difference.
In April, he's good at getting things done, but he's no team player. His actions are not always well-considered, and he jumps right in, often initiating conflict. He's more interested in contentious issues and eager to compete in the world of ideas.
This is an energetic month ideal for his self-expression and being creativity active. Encourage him to put his stamp on whatever he's doing.
In love, he has a great deal of warmth, but he can be impatient, and he demands a lot of others.
This is an excellent month for new romantic opportunities to blossom as he's passionate and confident.  They say opportunities expand in proportion to your willingness to take chances, and this month Cancer men are gung ho and eager to travel down the road of love.  Love relationships start fast, and the attraction is physical and high on mutual admiration.
If this hasn't quenched your thirst, you know where to find me, same place, as always.
Wishing you love and luck with your Cancer Man,
Your sister and relationship astrologer,
Anna Kovach